Most of us 'outdoorsy' type people have heard of or used the MSR PocketRocket hiking stove.
It's somewhat of an outdoor institution, having served meals to hikers, trekkers, mountaineers and campers for decades, and I'm pretty sure it has remained unchanged in its design for all these years (please jump in and correct me if I am wrong).
Weight and boil time
At just 85g, it's still not the lightest stove on the market, but it would have to be one of the most reliable. MSR claim a boil time of under 4 minutes, but in real time it's probably more like about 5. In the video below we boiled one cup of water in just over a minute.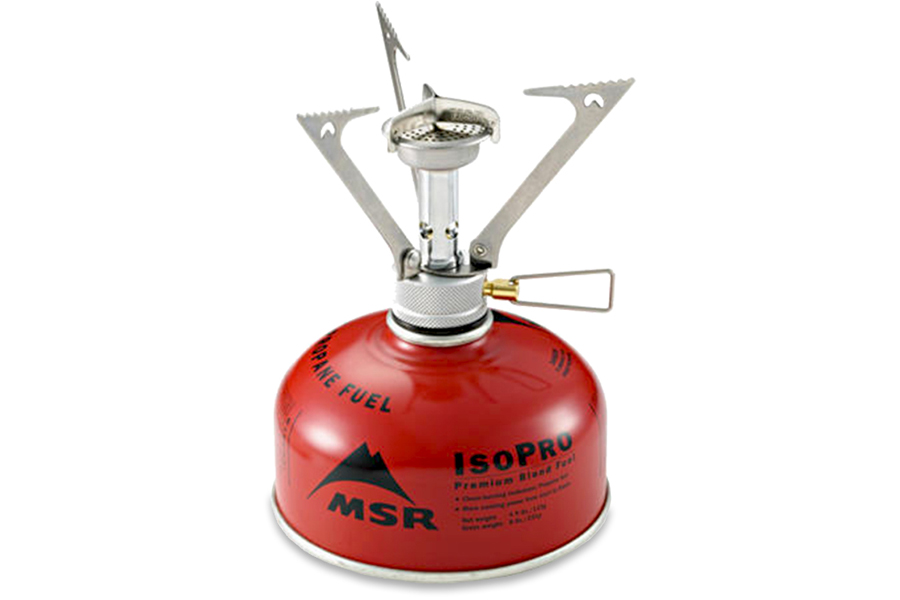 The classic MSR Pocket Rocket. 
Ignition, flame adjustment and supports
A simple design, no piezo ignition (let's face it, they are usually the first thing to give up on a stove anyway), glove-friendly flame adjustment and three serrated pot supports that grip the base of your cooking vessel. Complete in a bright red plastic carry case, the Pocket Rocket is both safe and visible in any rucksack.
Incorporated into the burner head is the MSR Wind Clip, designed to increase efficiency in breezy conditions by creating mini windbreaks within the flame.
Fuel and burn times
Powered by regular IsoButane/Propane fuel, you can expect to get around 60 minutes of burn time from a 227g cylinder. And if you want to see how it works, then you can check out the video below.
Hit play for a closer look at the MSR Pocket Rocket Stove, the accessories and how it's used.
Stability
Stability can be an issue with this type of stove, especially with larger pots. This can be overcome with a gas cylinder stabiliser, but realistically, the small burner head is designed for lightweight adventures with smaller pots.
In summary
In my opinion, if you want a tried and tested hiking stove, you can't go past the MSR Pocket Rocket.
Do you take the MSR Pocket Rocket with you on your adventures? Let us know if you've tried it for yourself.