The first ever Snowys Camping Quick Tip comes to us courtesy of blog contributor Michael Page-Sharp.
Michael found himself a little hot under the collar on one summer camping trip, and came up with this simple way of keeping a comfortable temperature inside your tent or caravan under the hot Australian sun.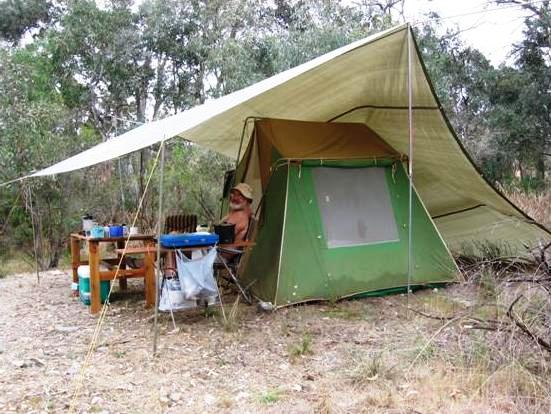 Hot tent or caravan air conditioning
I took my family, wife and two small children, camping one Christmas to get away from the usual round. Another family, similarly constructed, joined us.
We had an old, canvas tent, 12×18; they had an ultra modern tent with flys and flaps and fabric that breathed. The weather went into the 40's and despite shady trees the tents, both of them, were stifling. I had a large poly-something tarp with me in case of rain(!).
After some thoughts from the trouble and strife about returning home, my brain kicked into gear. I hoisted the tarp into the trees to shade the tent, about two feet clear. The temperature drop was dramatic and immediate, at least ten degrees. Our tent was cooler than theirs. Note, the tarp, not shade cloth, must be well clear of the tent, or van, to allow air to circulate.
Collect every Snowys Camping Quick Tip by subscribing to our blog.
If you have any nifty camping tips or techniques to share, let us know in the comments below. 
About the writer...
Joined back in March, 2013