We've just published a press release…. exciting stuff!
SOUTH AUSTRALIAN CAMPING RETAILER PIONEERS DRONE DELIVERY IN THE AUSTRALIAN RETAIL MARKET
01/04/2016 – AFTER almost four years of research and development, South Australian outdoor retailer, Snowys Outdoors, is about to deploy its first drone delivery for an online order.
Director Rolf Poslia said "Online shopping is mainstream in the retail world now – we need to be offering faster service to our customers so as to create a competitive edge."
Snowys Outdoors have been building their online presence from their Keswick store for over ten years and the launch of their drone delivery service comes after four years of research and development.
"We have worked with local electronic and industrial engineering companies and software engineers to get things to this stage" Poslia said. "Being South Australian based we wanted to keep everything local, and we found some fantastic companies and individuals to make this happen."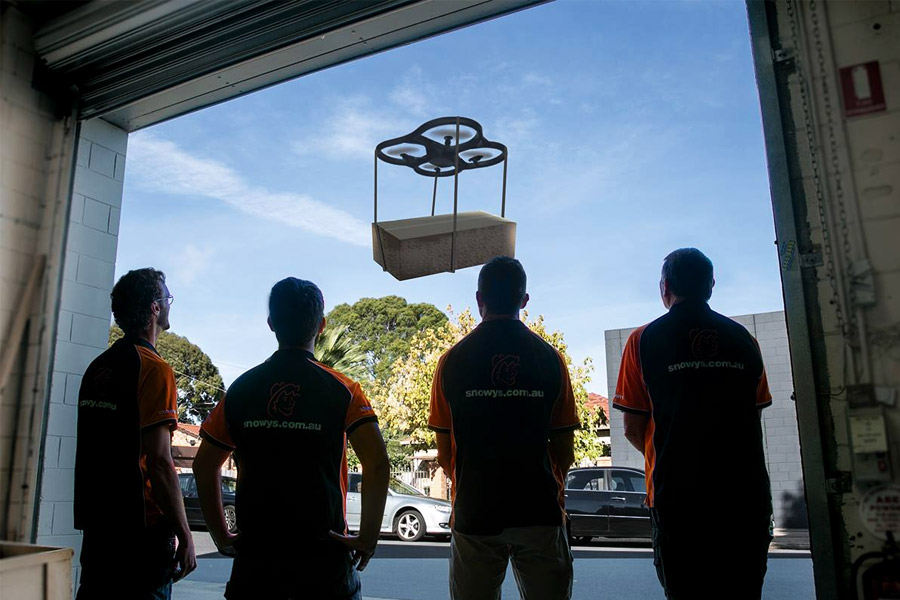 The prototype takes off on its first test delivery. 
The first official delivery is yet to happen. Select customers will be given the option to opt-in for the initial drone delivery runs.
Deliveries will be limited to metropolitan locations initially. Built up areas pose an issue according to Poslia, "We have a specific height at which we are allowed to operate the drones to keep clear of other aircraft. This height is lower than some high rise buildings, so we are working on a solution for deliveries within high-rise areas."
Snowys will slowly roll-out their drone delivery service over the next 6 months at which time they hope to launch it as the primary method of delivery for their online customers Australia-wide. "Although it has been a significant investment upfront, the long-term benefits will be huge with a massive reduction in our freight costs, not to mention the carbon offset we will be creating" Poslia says.
All enquiries: customerservice@snowys.com.au
APRIL FOOLS!
About the writer...
Joined back in October, 2015