Camping with kids is great fun, and getting your children away from computers and devices so they can explore the great outdoors can be very rewarding.
If you plan to head away for the long weekend, it's worth making sure you give yourself some time to plan ahead and prepare for camping with the kids.
Maybe you have a campsite in mind and have already got the kids excited. Have you thought about what to take, whether you need to book ahead and secure your site, what kid-friendly activities are on offer, will they enjoy it, and what camp food are you taking?
Don't stress, there is still time to get organised and save the last minute packing frenzy. So, other than the usual camping essentials, what else should you consider when preparing for your weekend away? Here are a few helpful suggestions:
Choose a site with suitable amenities
Selecting a campsite that has facilities like toilets and a shower block will help them transition into going outdoors, and will make it easier for you as you can bring less gear. Choose a destination with your kids, and make sure you book ahead.
Other things to consider with your campsite, is how far it is away from home. You want to be able to get away and enjoy time and space from your daily routine, but at the same time, you might not want to sit through a 4 hour car ride.
Have a trial camp in the backyard before you go
Make sure familiarise your kids with sleeping in your family's tent if it's their first trip camping, and make any notes of things you will do differently when you are away.
This is a great way to test whether the sleeping gear is nice and warm, if your mats are comfy enough and if you've got suitable lighting in the tent.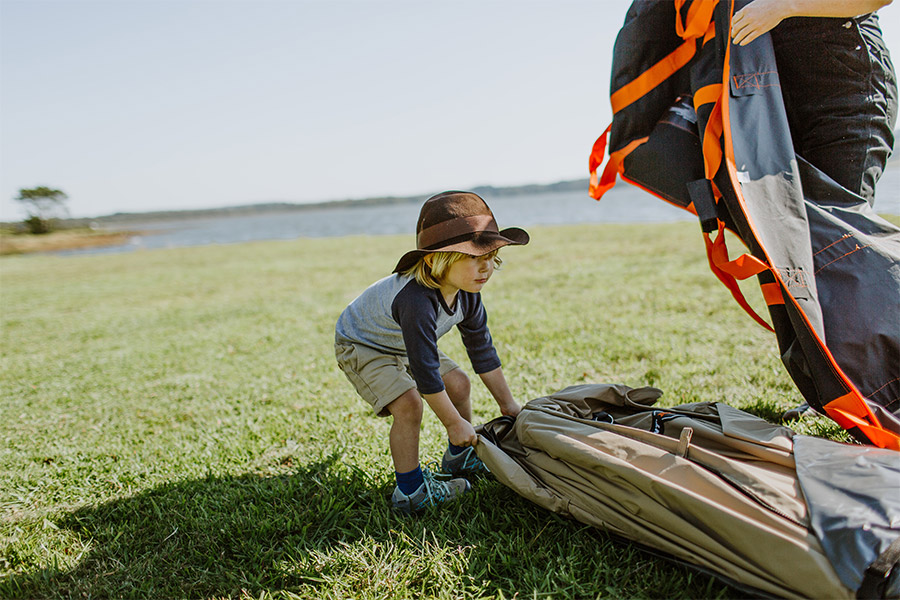 Get the kids involved in setting up camp. Image: Oztent
Include them in the planning and packing
Develop a checklist that you can use each time you go camping, you can refine it when you return to make sure you don't forget anything next time.
Get them to pack their bags with a list you have put together, and make sure you take extra clothes for the kids, as they will no doubt get theirs dirty.
Don't forget to pack a few favourite toys and other items from home to make the environment more familiar.
Bring appropriate shelter to accommodate activities
It's a great idea to have some portable shade on hand, such as a gazebo or shelter where you can set up an activity station to keep your kids occupied and out of the weather.
Consider safety
Consider safety and establish camp boundaries. Get brochures and maps from information centres, and attend guided ranger talks if they are available to learn as much as you can.
Ideas for activities with kids

:

Go prepared with items for a scavenger hunt such as wrapped treats, fruit or toys. If your kids are old enough you could create an orienteering game with a hand-drawn map and compass.

Get an outdoor survival book to learn how to make a shelter and explore other bush crafts.

Bring along bikes for everyone so you can explore the trails together.

Be prepared with backpacks, water bottles and snacks for a hike, and consider going with another family so the kids have friends to play with.

Teach them about wildlife and outdoor ethics like the leave no trace principles. See if you can spot any interesting trees, rocks and bugs that are native to the area.
Don't aim to achieve too much
It will be far less stressful if you pick a destination that is not too far away. Don't expect to hike all the way to the top of the hill, or jam too many activities into your day. Involve your kids in the small things such as pitching the tent, setting up the camp kitchen and packing up.
Make time for naps and downtime
You and your kids will probably be knackered from all the activities you do, so make time to rest so that everyone is ready to get up the next day and do it all again.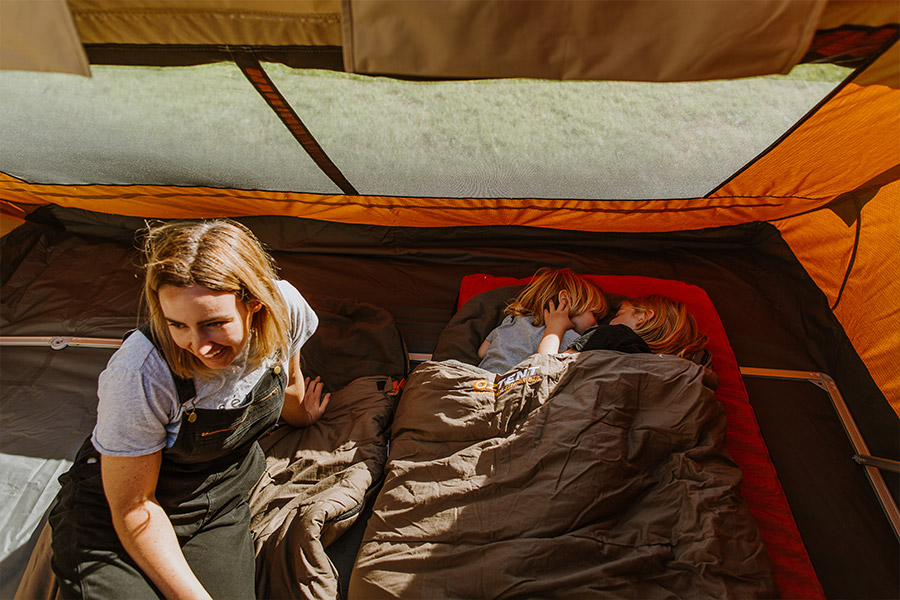 Don't expect too much from your kids. Image: Oztent
Food for the trip
Take food that is easy to store and that you know they will want to eat. You're probably too far from home to try out a new recipe if your kids are fussy eaters. Also get your kids to help prepare your camp food, just to make it easier on the adults.
Relax and enjoy yourselves
Make sure you take time for yourselves to relax, do some stargazing, enjoy a glass of wine, or go for a relaxing stroll. Make sure you take a camera to record the fun times, let the kids free with the camera, it can come back with some interesting results!
We would love to hear about your favourite family camping with kids ideas in the comments below.
About the writer...
Trekker, surfer, climber, mountain biker, runner, camper. Participator in most things… master of none.
Joined back in March, 2013