Hi folks, not taking credit for this, it was written by Sean Arthur after he travelled with his family from Melbourne up the middle across the top and down the east coast in 7 weeks.
A lot of travelling in such a short time but as Sean says: "It was not a relaxing holiday but it sure was an awesome one".
Our Australian Road Trip – from Sean's perspective
From a flippant discussion to a split decision we went from decision to departure in under six weeks. Bought a car and a caravan, filled it full of whatever we deemed necessary and we were off
7 full weeks of magnificent sites, varied cultures, lifestyle changes, rude awakenings, lovely people, some not so lovely, awesome wildlife and great examples of animals in captivity.
Every road type you can imagine and every river, stream, creek, beach and waterhole you could desire, from dusty campsites to well-kept caravan parks. Baron roadside stops to street side squatting in a nice suburban area in Sydney. From sweaty pillows to freezing doonas.
I've been asked by a couple of people, what was your favourite place. That I can not answer. We have seen so much awesomeness in seven weeks that they are all great in their own way.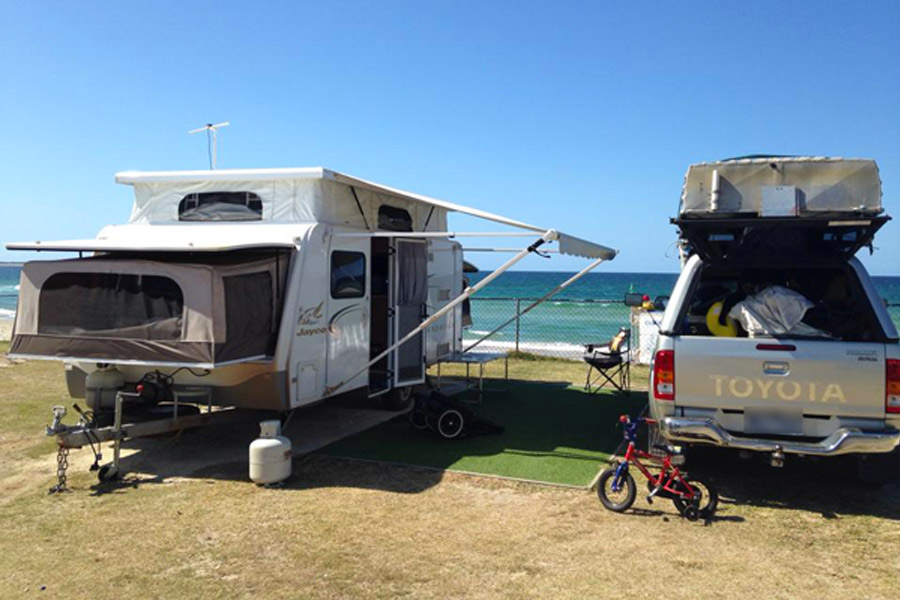 The beachside accommodation on our trip…check out those views! 
However, a few standouts would be:
Lowbank SA on the Murray
West MacDonnell Ranges gorges Ormiston and Ellery Creek NT near Alice Springs
Mataranka Thermal pool and Bitter springs thermal river NT
Litchfield national park Wangi falls and Buley Rock pools NT
King Ash Bay Fishing Club NT great for a return to solely fish
Saunders beach QLD
Airlie beach QLD
Carmilla beach QLD
Agnes Water 1770 QLD
Kingscliffe NSW
Sandon NSW
The technical bits:
We covered a massive 13,100km in 49 days
We burnt $3919 of diesel
We stayed at 35 different places along the way
Temps ranged from cold at night to 39 degrees during the day
Our longest stop in one place was 3 nights
I waved at approximately 39,243 caravans (felt like it)
We covered 5 states
It was not a relaxing holiday but it sure was an awesome one.
We now have some excellent places to revisit when time permits and have so many memories and photos to last forever
I got to spend 24/7/7 in a box or car with the two most important people in my life and we didn't kill each other. Now that's cool!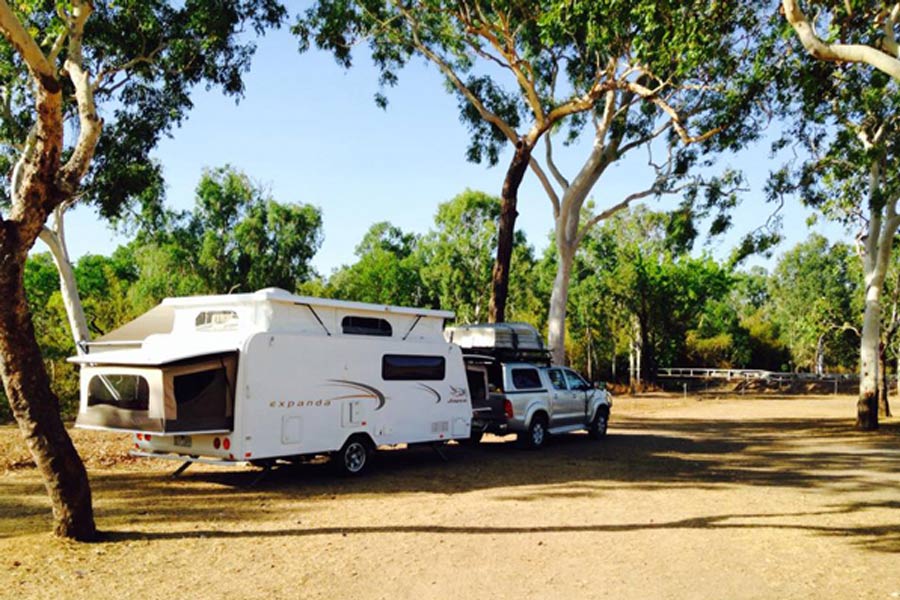 The Expanda caravan made an excellent home for 7 weeks around Australia. 
 So my summary is this:
Australia is an amazing place that holds such diversity from shore to shore.
So much to see and so much to do.
We are so lucky to have this amazing place so let's make sure we keep it.
This trip has made me a very proud Australian.
I have learnt things about cultures that make me feel rich by nature not by belongings.
I envy the culture of others in such simple lives.
This trip has changed me.
So folks, if you're ever presented an opportunity to travel our great land, I beg you to make it happen. Be it two months or two years, your gonna love it.
Thanks for coming on Aus style with the Arfas… hope you've enjoyed following us! We look forward to taking you with us again when we do the west.
About the writer...
Experienced video production for over 40 years … love it!
Camping and caravanning … live it!
Joined back in December, 2013