Choosing a swag… where do you even start? Our purchasing guru goes through a similar dilemma when deciding which products we recommend to our customers. And our warranty guy wants him to get it right so a stack of bad products don't end up on his 'fix-it' pile.
The lucky thing for us is that we have fantastic customers who provide valuable feedback on their swags. That way we can scrap any swags that create too much work for our warranties department, and instead we can buy and recommend based on popularity and reliability. We've put this info on a list to help you decide too.
This list is just a snippet of our swag range. We introduced Burke & Wills Swags in 2016, and our Darche range is rapidly expanding. AOS, Companion and Black Wolf didn't make it on this list but you'll find them along with a stack of swag bags and accessories on our website.
So to back up our Best Swags of 2015 list, and to help you find your perfect swag, here are our 10 best selling swags of 2016.
For the latest and greatest in swags, check out our latest swag review here.
10. Jolly Swagman Matilda Swag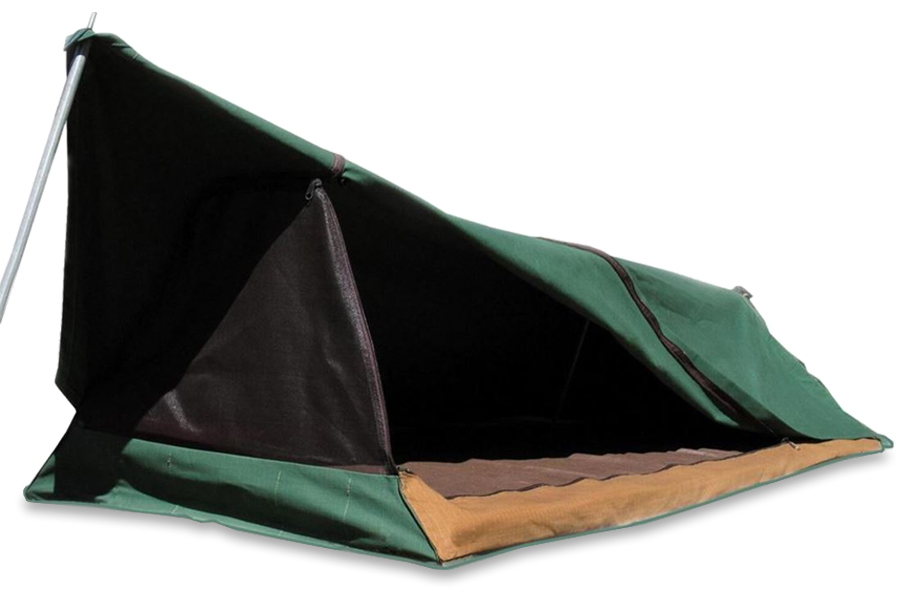 Available in king single, XXL and double sizes, the Jolly Swagman Matilda Swag is an apex style swag that can be used as a traditional envelope with the cover loosely laid over the top, or pitched with the addition of an optional head pole.
The Matilda is Australian made with tough, high-quality polycotton canvas and long-lasting insect mesh. This makes it perfect for the camper looking for basic, reliable shelter.
9. True Blue Bluey Bigfoot Swag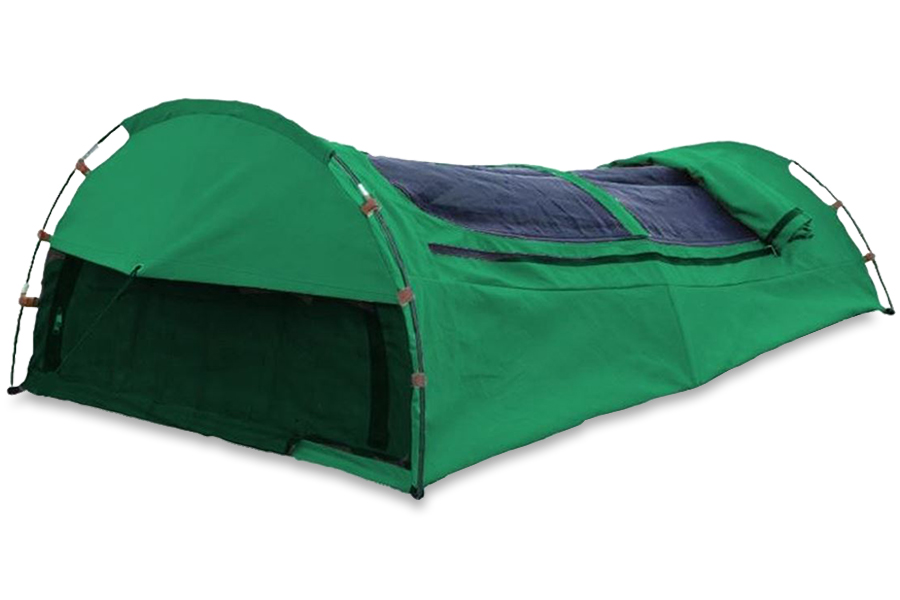 Also made in Australia, the Bluey Bigfoot Swag appeared on our list last year and rightfully appears in the 2016 list too. It's made from 100% cotton canvas making it a tough and breathable swag that comes at an entry-level price.
A great choice as a first swag, or for those looking for an excellent balance between price and quality.
8. Darche Ridgedome Swag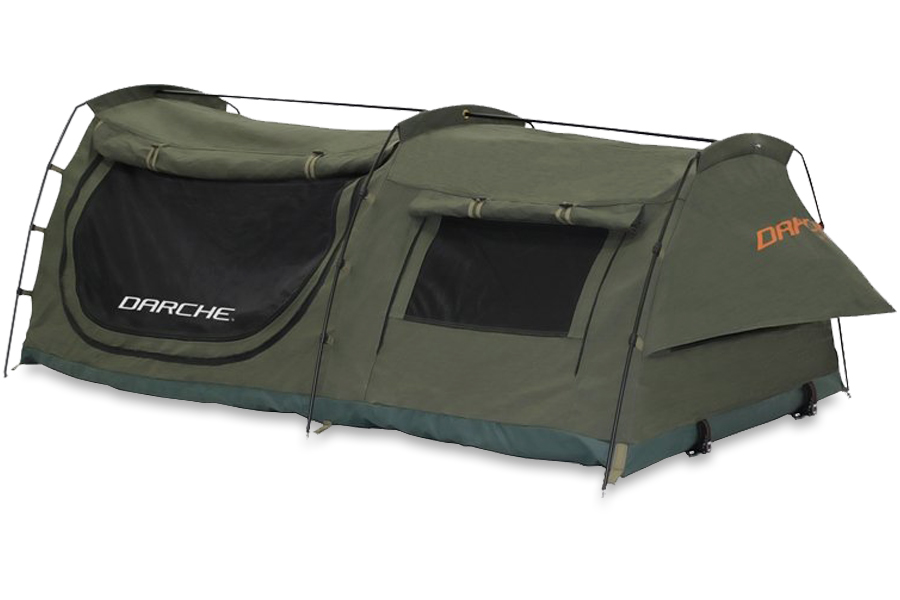 Darche swags are made with all the bells and whistles, and the Ridgedome Swag is by no means any exception to this. It has a 3 pole free-standing design made with tough canvas and a PVC base. The Ridgedome also features 3 entrances, 2 windows and exceptional ventilation.
This not the cheapest swag in our range. But if you're willing to invest upfront, then the Darche Ridgedome Swag will provide a lifetime of restful sleep in the outdoors.
7. Oztrail Cooper Expedition Swag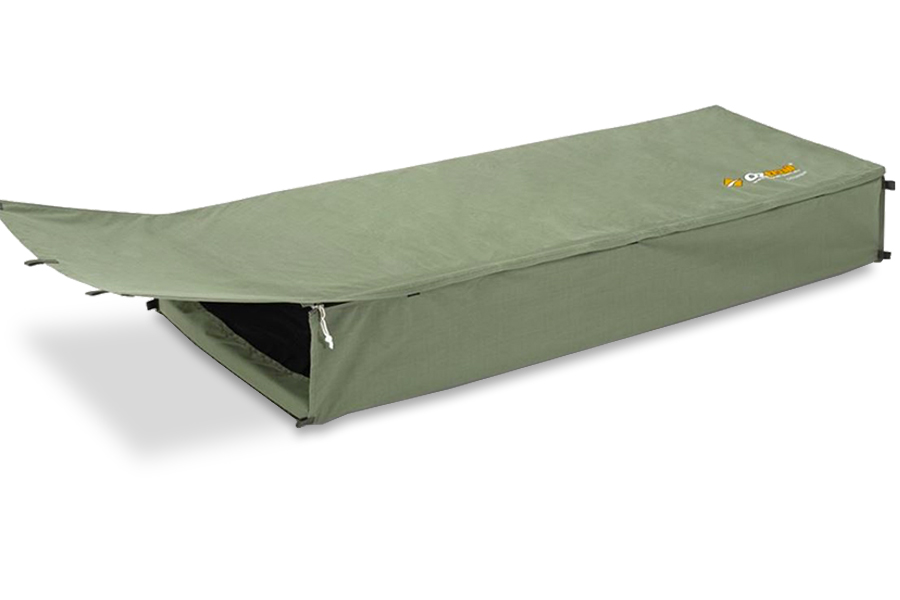 An envelope swag is basically a fabric box with a mattress inside, just like the Cooper. It's the perfect choice when you need a swag for occasional use without all the extra features.
The Cooper Expedition swag comes in both single and double sizes, and while the Cooper has a PVC base and waterproof fabrics that will keep some rain out, it's probably best kept for dry insect free conditions, or for use inside a tent or mesh dome.
6. Jolly Swagman Shiralee Swag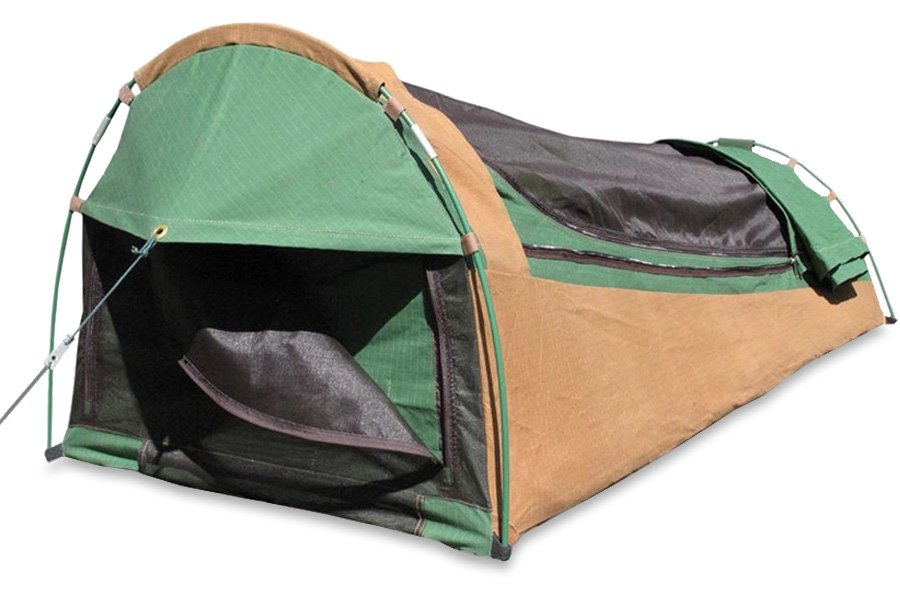 A roomy high-quality swag, the Jolly Swagman Shiralee has a large top opening, ventilation at the head end and it comes in single and double sizes. It's Australian made with poly cotton canvas sourced from India and Pakistan. This canvas provides exceptional tear strength, abrasion resistance and breathability.
The mattress is a high-density foam with exceptional memory. This means the foam will keep springing back to its original thickness for years before it needs replacing. The Shiralee is well priced for a high-quality swag with all the functionality most people expect.
5. Oztrail Kokomo Swag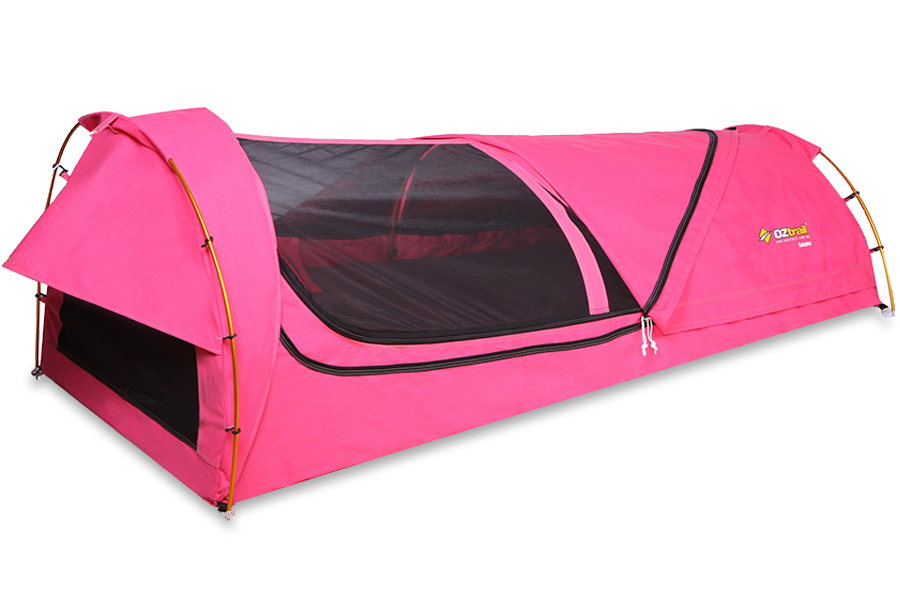 It's on our list again this year, the Kokomo offers predominantly female campers the option to add a little colour to their campsite. Available in pink and purple, the Oztrail Kokomo Swag is a 3 pole swag with a thick mattress and a full-length top opening.
4. Oztrail Biker Swag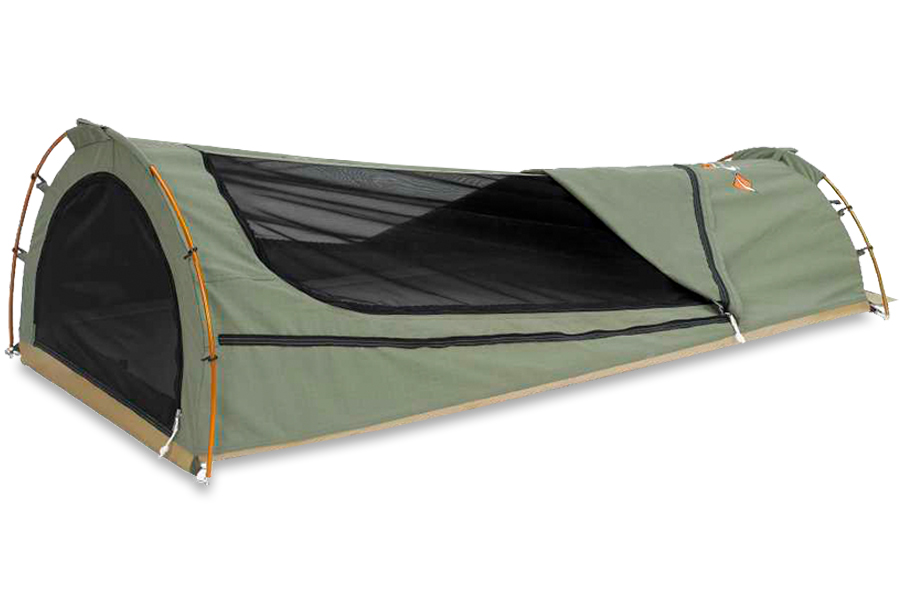 As the name suggests, this one is for motorcycle touring. It features a narrow mattress for a smaller packed size. This makes it easy to strap it to the back of your motorbike. Enveloped in SatProof canvas, the Biker Swag offers reliable weather protection while the PVC base keeps the upper dry when strapped to your bike. For a long time, the Biker Swag has been our only option in the compact swag category, but the Darche Ranger Solo has just landed on our shelves as a specced up alternative.
Although popular amongst motor and trail bike tourers, the Oztrail Biker Swag is also ideal for horseback adventures or even for campers with limited vehicle space.
3. Oztrail Lachlan Swag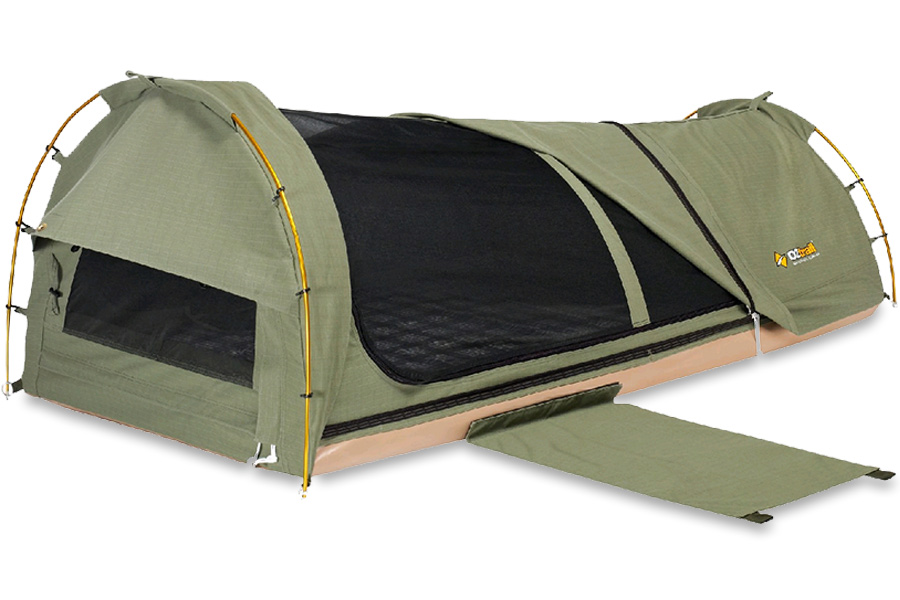 The Oztrail Lachlan Swag comes with creature comforts. You get a 3 pole design with a 7cm mattress, PVC base, heavy-duty canvas, and a full panoramic opening at a very affordable price. It's a perfect mid-range swag with the features and space of high-end models.
2. Darche Dusk to Dawn Swag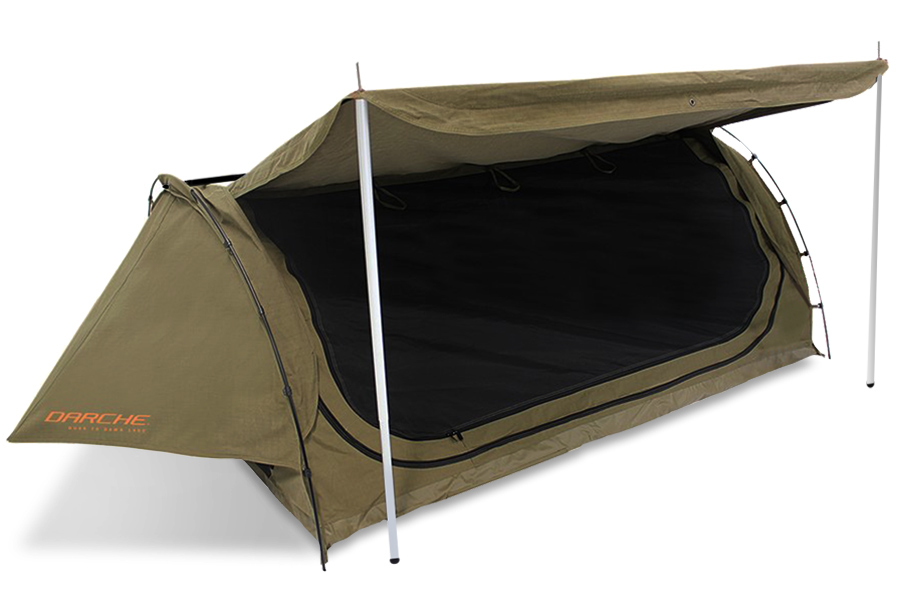 New to our range this year, the Dusk To Dawn swag has quickly gained traction to become one of our best-selling swags.
It offers liveability not found in many swags thanks to large side doors that can be pitched as side awnings with an optional pole set to create a rain-proof space on each side of your swag. These door panels can also be rolled open for excellent views of the night sky, or for superb ventilation.
A freestanding design in three sizes made with thick poly-cotton canvas and insect proof mesh. The Dusk To Dawn Swag has large internally accessed weatherproof awnings, a PVC base, internal storage and integrated roll straps. All of which can be stored in the included heavy duty canvas storage bag.
1. Oztrail Mitchell Swag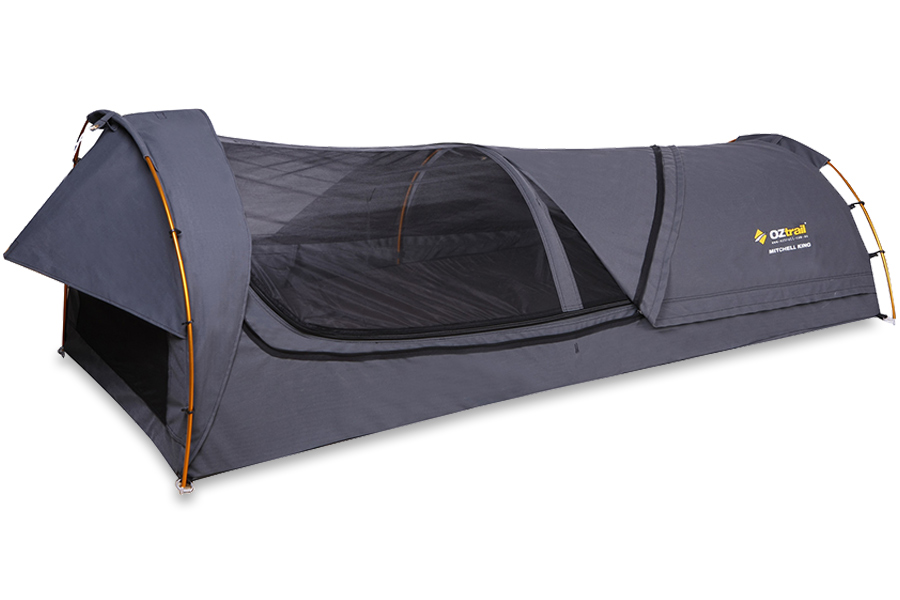 It is and probably always will be our best selling swag, simply because is is great value for money. There are 2 versions of this swag. The original Mitchell King Single is the model that has been around for years, it's a 3 pole dome swag with a canvas base and all the basics you need, in 3 different colours.
We think the canvas used for this version has a more durable feel than the recently introduced Mitchell Expedition which came into the Oztrail swag range mid-2015. The Expedition version is available in King Single and Double sizes and apart from what we feel is a difference in the fabric, shares all the same dimensions and features as the original King Single, only with a PVC base.
So which do you choose, the original Mitchell King Single or Expedition? Well, if price is your deciding factor, then the Expedition wins out. Price aside, you would choose the expedition if you spend most of your camping hours in wet environments.
This is because the PVC offers better water protection, especially during transport. If you just want an all-rounder, you can't look past the original King Single.
These are the best swags we'll continue to recommend to our customers in 2017. We'd love to know what keeps you protected from the elements and sleeping soundly in the outback.
About the writer...
Trekker, surfer, climber, mountain biker, runner, camper. Participator in most things… master of none.
Joined back in March, 2013