We've collated and analysed another year of sales data so you can make sure your next camping tent is one that has been tried and tested and you get the right shelter for your family holidays.
We've extended the count out from the 6 to 10 this year and there's once again a number of tents that have been on this list year after year. Last year I predicted that air tents were going to fly off the shelves, but it looks like the tried and tested favourites were what you guys loved.
So, without further delay, let's start at number 10 of the best family tents for 2018.
10. Malamoo Mega 4 Person Tent
The quickest pitching tent on this list, the Oztent Malamoo Mega is on the smaller side of the family tents range. What it doesn't have in space, when compared to larger domes, it makes up for with ease of pitch.
With just the flick of a wrist and a few pegs, you'll have sleeping space for a small family and a vestibule for storage. It's a great tent for holidays where you're pitching the tent each night and packing it up in the morning. The Oztent Malamoo Mega will undergo a name change in 2018 and become the Oztent Cicara 3.0, but the tent will remain otherwise unchanged.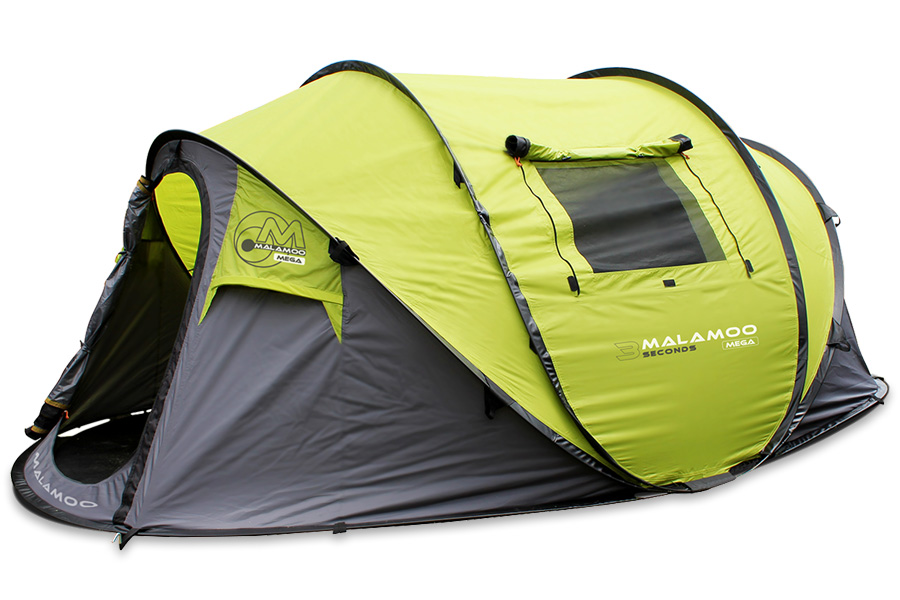 The Malamoo Mega pops up and down making it perfect for beginners. Image: Oztent
9. Black Wolf Mojave HV6 Dome Tent
The Black Wolf Mojave HV6 has been around for some time now and continues to be a popular small-format family tent. It has a sleeping area for six people (but four is more realistic) and a fully enclosed mesh vestibule. This can be used for weather and insect-protected storage or dining space.
It features a sturdy semi-geodesic frame, multiple entry points, good ventilation and clear curtained panels in the flysheet to brighten up the inside on gloomy days. It's well made, proven in the field, and has a small packed size making it ideal for campers with limited vehicle space.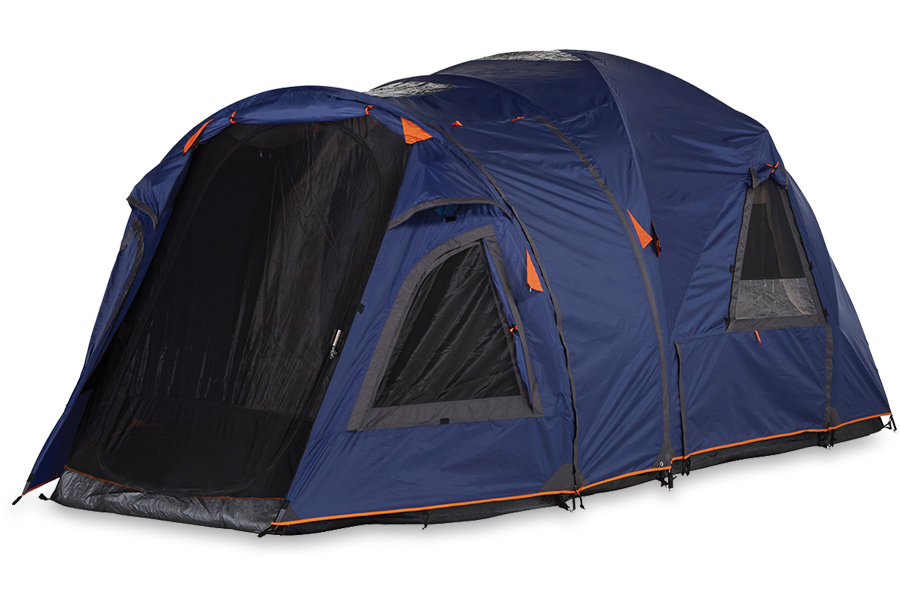 The Mojave HV6 from Black Wolf is a classic and roomy dome tent. Image: Black Wolf
8. Oztrail Bungalow 9 Tent
As with many of the Oztrail products, the Bungalow 9 had a colour change in 2017 but remains otherwise unchanged. It's a roomy 3-room tent with a full mesh inner that is good for warm weather or tropical camping holidays.
The Bungalow frame consists of four hoops in lieu of a freestanding design. This gives it vertical walls and a consistent roof height throughout. There are four entrances and each doorway can be extended as an awning. This teamed up with four windows makes for excellent ventilation.
It too has a small packed size for compact vehicles and is a very affordable family camping tent.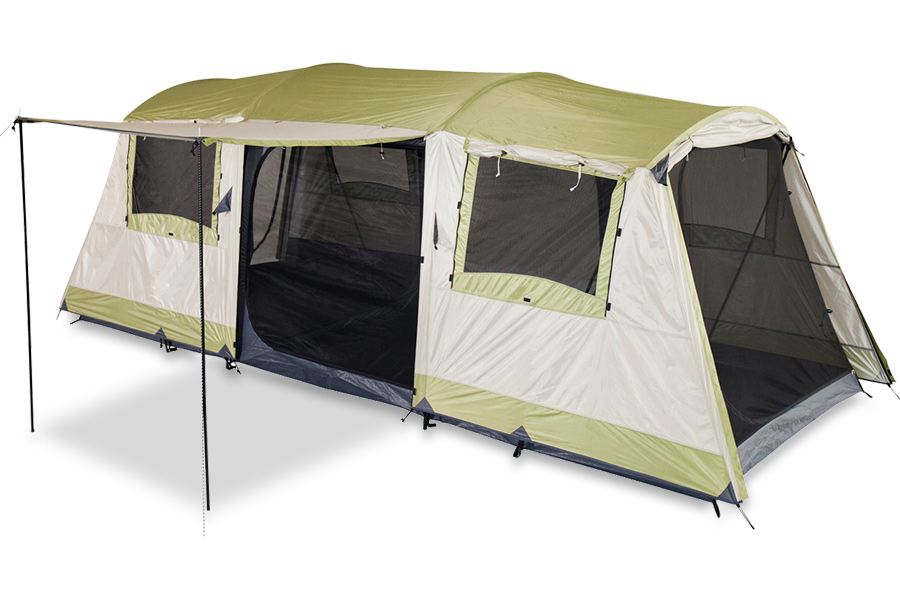 This model offers lots of air flow, so it's ideal for summer camping trips. Image: Oztrail
7. Oztrail Latitude Dome Tent
The Oztrail Latitude Tent is similar to a discontinued tent called the Villa Dome, only it's slightly lighter in weight with a more affordable price tag.
The Latitude has four enclosed rooms each with their own entrance and dividing wall so you can adapt to a variety of campsite configurations. Each doorway can be extended as an awning whilst the front vestibule has awnings on all three sides.
These doorways combined with four windows makes for ample ventilation. At just over 20kg, and boasting a relatively manageable packed size, the Latitude is the perfect shelter for large families on a summer getaway.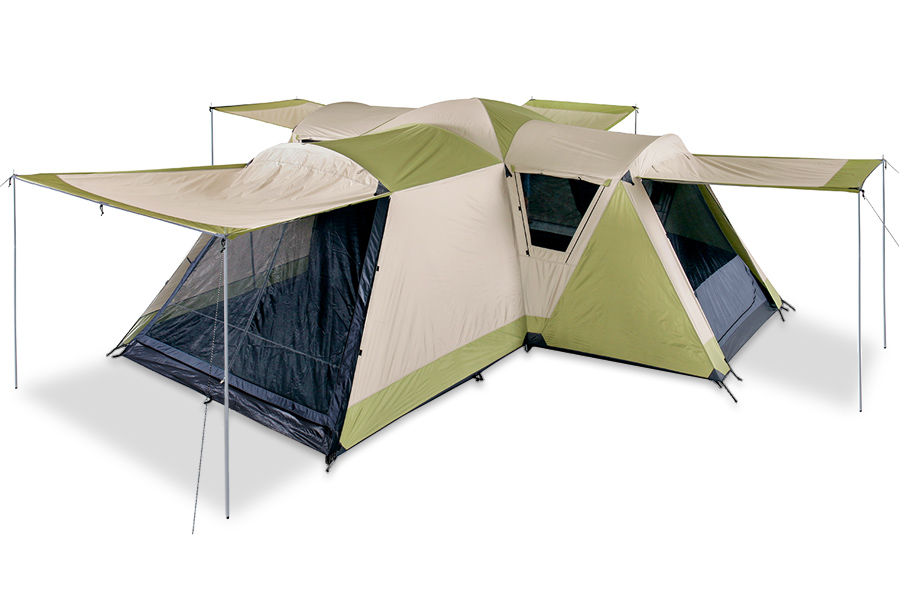 With 4 rooms and lots of ventilation – the Latitude represents great value for money. Image: Oztrail
6. Oztrail Tourer Canvas Tents
The Oztrail Tourer 9 has been around for many years. It's simplistic and somewhat bombproof design makes it a popular choice for people who want durability over features.
The Tourer comes in two sizes – the Tourer which is a tight four-person or roomy two-person tent, and the Tourer 9 Plus which features an extended rear section that creates room for up to 6 people, or ideally a family of four who doesn't mind sharing a sleeping space.
The Tourer tents are a single skin canvas shelter with a heavy duty polyethylene floor and simple galvanised steel frame. They are perfect for the outback tourer who needs a tent that will not fail and can withstand the rigours of travel on a roof rack over rough trails.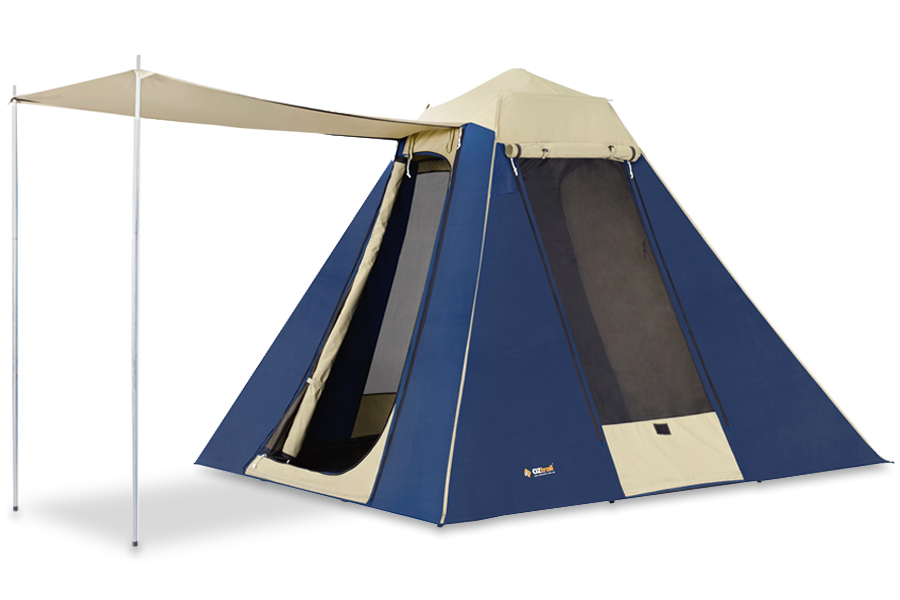 The canvas skin and galvanized steel poles make the Tourer 9 a hardy choice. Image: Oztrail
5. Outdoor Connection Brampton Tent
The Brampton has come in at this position two years in a row now. This is most likely due to it being an extremely liveable tent. It may take a little longer to set-up than its quick pitch competitors, but this extra time spent is rewarded. This is a very roomy 3-room tent with awnings that can be extended for large shelter all around the tent.
There are sleeping quarters for four at each end separated by a central living space. As with all Outdoor Connection products the Brampton is made with durable materials. It also comes with a host of features such as door locks, adjustable awning poles and zippered guy rope pockets included.
What's more, by adding the optional awning wall you can semi-enclose the awning. Or, with four extra walls and additional awning poles, you can create a verandah that goes around the tent. It's the perfect long-stay family getaway tent.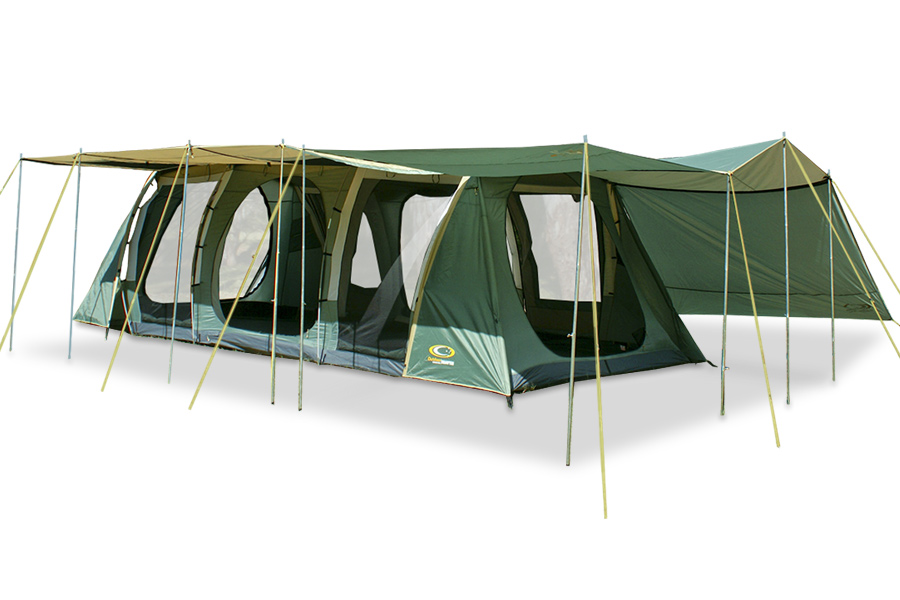 The hugely livable Brampton is a great choice for large group camping. Image: Outdoor Connection
4. Coleman Chalet 9 CV Dome Tent
It disappeared from our best family tents list last year, but it's back with a vengeance this year. The Coleman Chalet 9CV Dome Tent has long been a staple part of our family tent range.
This tent balances durability, liveability and portability perfectly. Featuring 3 ventilated rooms, Coleman's Gold Series fabrics and Durawrap fibreglass poles all pack away in a wheeled carry bag. The floor is a heavy duty polyethylene and the interior is a combination of nylon and mesh making it suitable for all climates.
It comes with all the features you expect plus a skylight for extra light on gloomy days. The Coleman Chalet 9CV is backed with years of reliable use by campers across Australia. It's a good choice for families that often embark on weekend camping getaways.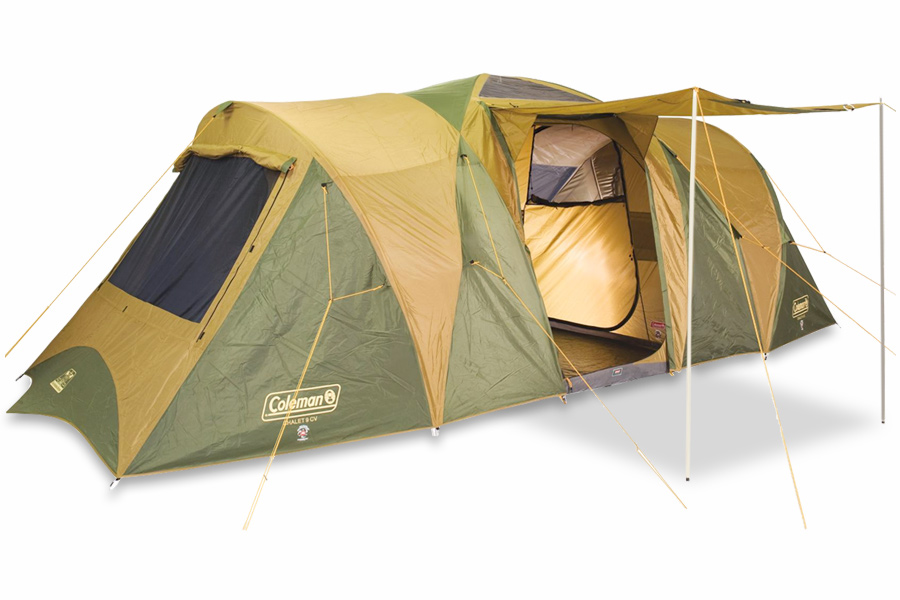 Other tents come and go, but the Chalet 9 CV  finds its way back to our best seller list. Image: Coleman
3. Black Wolf Turbo Tents
There are more than a dozen models of Black Wolf Turbo Tents now. When we added up the sales for all these models together they come in as our third best-selling range of tents.
Within this range, the larger models are the most popular with the Turbo Lite Cabin 450 once again being the most popular. This is most likely on account of its independently accessed rooms and extra-large awning. Following the Cabin 450 was the Turbo Plus 300 and the Turbo Lite Twin 300.
The Turbo range has, and will probably always be, one of our top selling tents. They are made with durable canvas and a reliable alloy frame that makes set-up and pack away a breeze. A host of optional accessories are available to enable you to add on, enclose and extend the living space of your Turbo Tent. So you can adapt it to any climate and camp set-up you desire.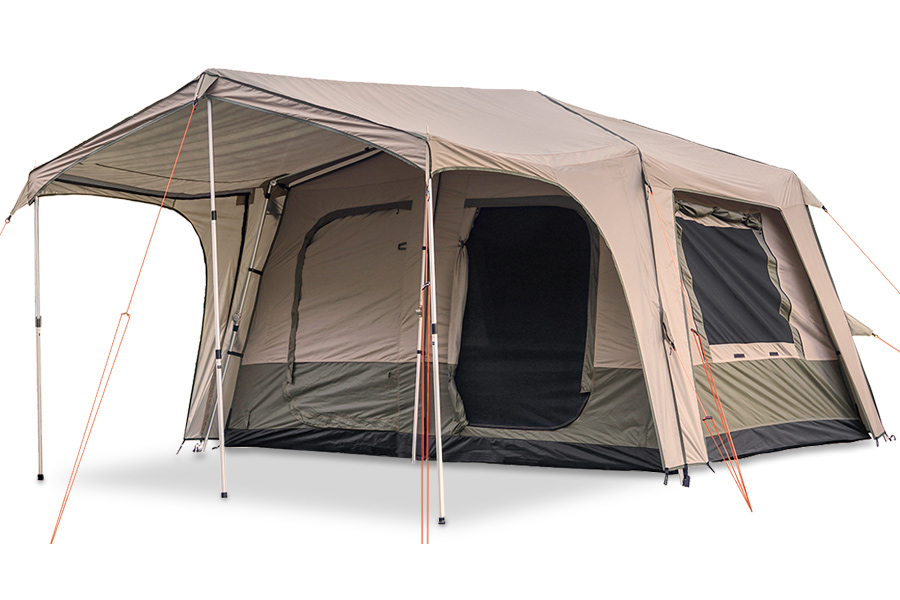 The Classic Turbo Cabin 450 can be relied on for touring. Image: Black Wolf 
2. Oztent RV 30 Second Tents
The tent itself doesn't offer much more than an awning and a place to sleep. But the speed at which they erect, the durability of the fabrics, its ability to withstand the worst of weather and all the optional extras are what make the Oztent RV Tents the go-to choice for 4WD touring.
The RV5 is the most sought-after model in the range. This is followed by the RV4 then the RV3. The RV5 offers sleeping space at floor level for 4-5 people. However, we'd recommend using it as a 2 person tent as you can fit 2 stretchers with space in between.
The RV Tents are made from the toughest materials, so they have a canvas upper, PVC floor and durable alloy frame. They also really can be set-up in 30 seconds and there are heaps of optional extras available. You can join two RV Tents together or attach them to a sail-track, enclose the front awning with side and front panels and protect the floor with mesh floor savers made to fit for each model.
The only downside to these tents is the packed size – you'll need a roof rack to transport them.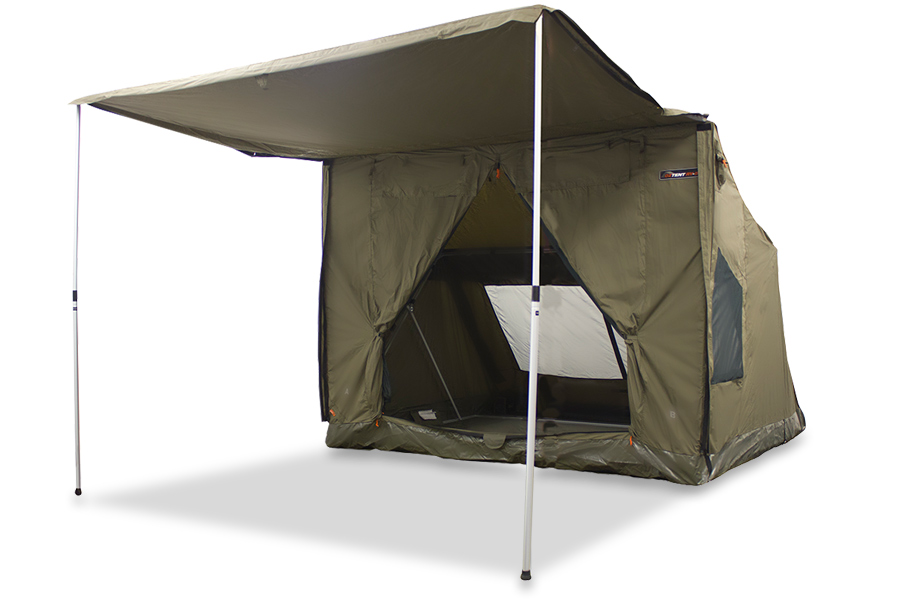 Easily the simplest tents to set up, the RV tents are a no-brainer choice for serious campers. Image: Oztent
1. Coleman Instant Up Tents
Sales for this range of tents were leaps and bounds ahead of any other tents at Snowys. There are more than ten models in the Coleman Instant Up Tent range now and the Silver Series Instant Up 4P topped this list. This was followed very closely by the Instant Up Northstar 10 and the Instant Up Gold 10P to make up the top 3.
After that our list is made up of a mix of the 4, 6 and 8 Gold and Silver series tents. The new Gold Series Darkroom 6PV and 4PV tents that came out mid-year followed at the bottom of the list.
The Coleman Instant Up Tents represent exactly what a family wants in a tent – easy to pitch, roomy, reliable and affordable. The instant-up frame and inner tent are integrated and they all come with awning poles to extend your living space.
The Silver Series are the entry-level option, whilst the Gold Series offer better quality fabrics and a few extra features which you can read more about here. The hardest thing about the Instant Up range is trying to choose which configuration best suits your camping requirements.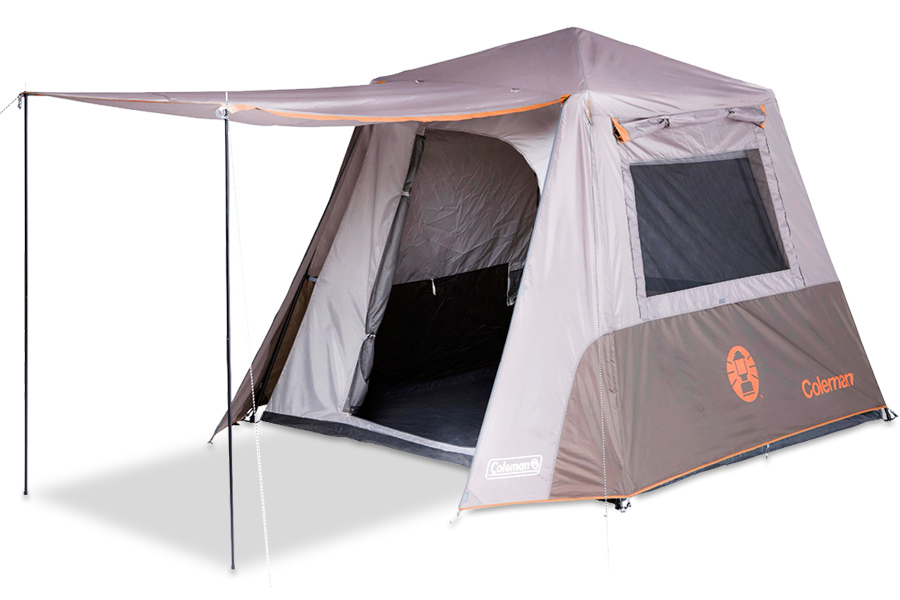 What can we say – everyone loves the easy-pitch and affordable Instant Up range. Image: Coleman 
What's going to be popular next year?
The Coleman Elite Weathermaster 8 has come and gone over the years, but we've managed to secure a few at an impressive price. We reckon they're going to be super popular, so if you like the look of these you'll need to be quick. We currently have limited stock and don't know if it will be available again once we run out.
The Coleman Elite Weathermaster 8 is unique with its integrated lighting system and a hinged door that swings closed behind you. It also has self-rolling windows meaning no messing around with ties when you want to open a window.It's a four-hoop pole design with sleeping space for six. However, we would recommend to use it as a four-person family tent with living space. This tent also has a front room with fully enclosed mesh and comes with awning poles to extend the door cover for shade.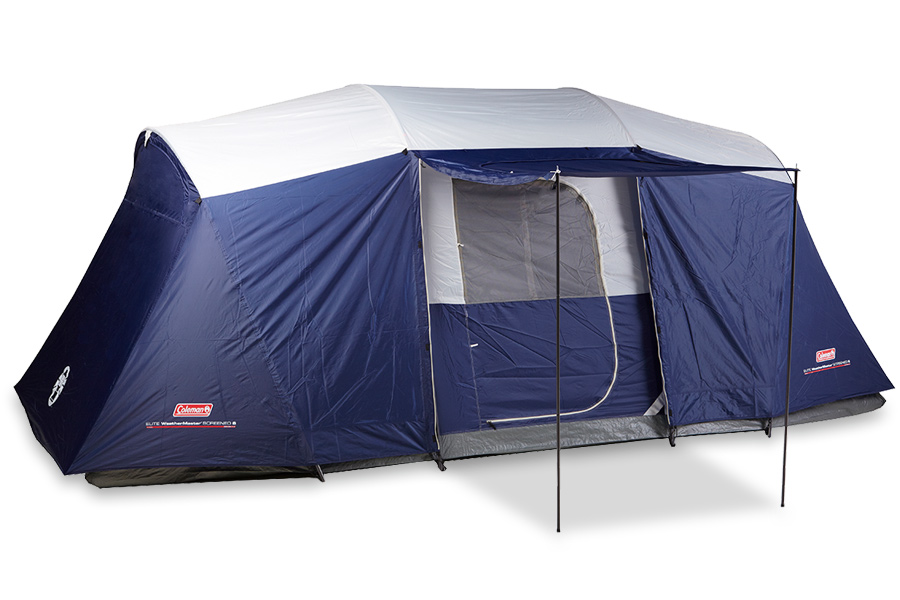 The Weathermaster might make it onto the best sellers next year. Image: Coleman
I'm going to sit on the fence when it comes to predictions for the coming year. There are a few new tents that have come onto the market recently, so perhaps we'll see those make the cut. Or the classic tents we all know and love will prevail – we'll just have to wait and see. In the meantime, happy camping everyone!
What was your favourite of our family tents for the year?
About the writer...
Trekker, surfer, climber, mountain biker, runner, camper. Participator in most things… master of none.
Joined back in March, 2013