At first glance, camp stretchers all look much the same. Truth is, all the stretchers in our range are going to achieve what they were designed to do – give you a comfortable place to sleep.
So, what do you get for the extra money? Well, whilst comfort increases slightly as the price tag gets heavier, what you really pay more for is stability and ease of use. So, while we pick our stretcher range firstly on build quality and reliability, it's the feedback from our customers that has helped us decide what is ultimately the most comfortable and user-friendly stretcher.
To help you choose which stretcher will suit your camping adventures in 2018, we've put together our top ten selling stretchers, determined by what our customers chose as their preferred sleep option over the last 12 months. Let's start at number ten.
10. The Outdoor Connection Sundowner Stretcher
This is a big, strong stretcher. It has a 170 kg weight rating and a steel frame that provides oodles of stability, and as with all Outdoor Connection gear, it's made of tough materials.
The length and width of this stretcher make it perfect for the restless sleeper or for pitching your swag on. If we had to pick a negative on this one, it would be that it's going to take up a fair bit of space in your tent.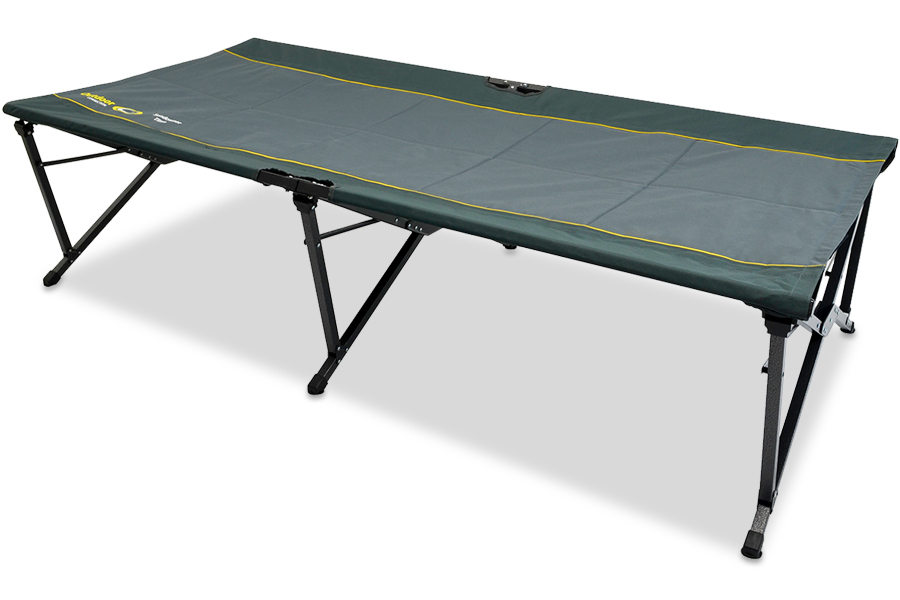 The sturdiest of the bunch, this stretcher has a higher weight rating than other single models. Image: Outdoor Connection
9. Zempire Wire Leg Stretcher
Buying sleeping arrangements for your kids doesn't have to be an expensive undertaking. The W Leg Stretcher from Zempire is an affordable and compact camp bed with a small footprint that fits easily inside most tents.
Consisting of a simple powder coated steel frame that packs away to a very manageable size, the W Leg stretcher will take up minimal space in your car. It also stores easily as a guest bed at home. It can take a little longer than some stretchers to set up, so it's probably best suited to occasional use.
The W Leg is compact and without a hefty price tag. Image: Zempire 
8. Oztrail Double Bunk
An alternative to buying a bigger tent for a growing family is to build up instead of out with a camp bunk. Within the footprint of a regular stretcher, you can sleep two kids. Plus, once they've gotten over the argument of who's sleeping on the top bunk, the kids will love the novelty.
These take a little while to set up, you wouldn't want to do it night after night. But, for long-term camp stays, a bunk is a great way of organising your family's sleeping quarters.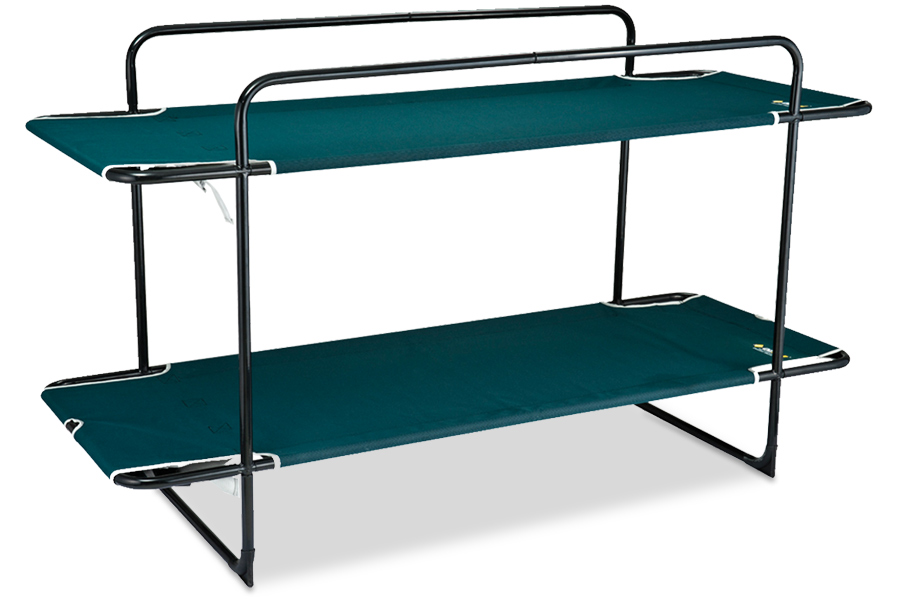 Bunk Bed stretcher is an excellent choice for families. Image: Oztrail
7. Coleman Big Sky Beds – 3 Sizes
These beds have been around for a long time. Recently, however, they've received a facelift and had extra sizes added to the family. Now available in compact, regular and deluxe sizes, these beds are a coil sprung trampoline style stretcher with a foam mattress on top.
The packed dimensions of the Big Sky Beds make them a little less manageable than other stretchers on the market. But the trade-off for this is that they are comfortable and sturdy. The hoop style legs are friendly on tent floors too. So if you can fit them in your car or on the roof rack, then they'll offer a good night's sleep wherever you set up camp.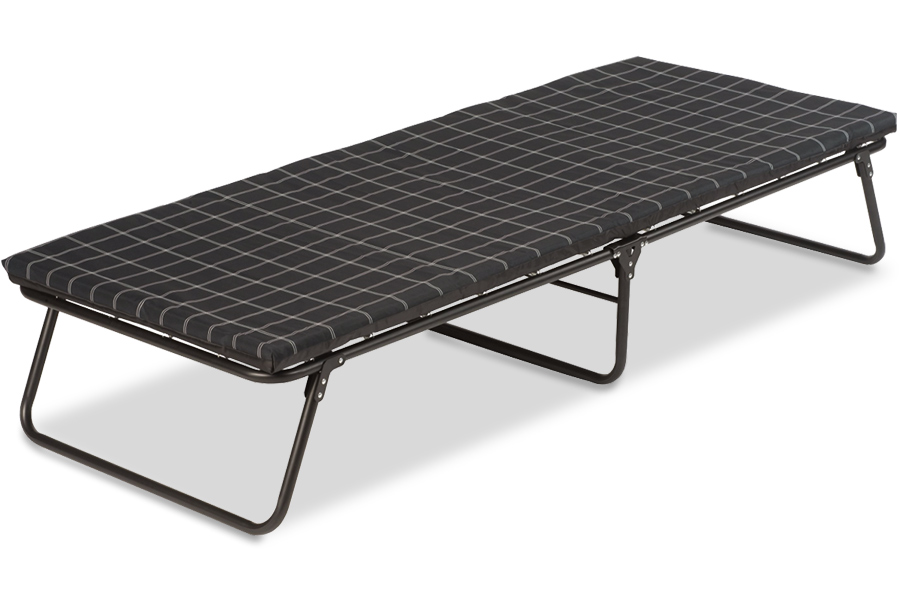 The foam mat on top of these stretchers makes them super comfy. Image: Coleman
6. Oztent Goanna Stretcher
There are actually three models in the Oztent stretcher range. But as they all have their differences, we've included them as stand-alone products in this 'best-of' list. The Goanna Stretcher is the smallest in the range with narrow and low dimensions that suit small to medium sized tents.
One feature that stands out on the Oztent stretchers is the padded fabric which offers a little more comfort and insulation than the single skin fabrics on other stretchers. The Goanna stretcher is ideal for shorter users or a long-lasting sleep solution for the kids.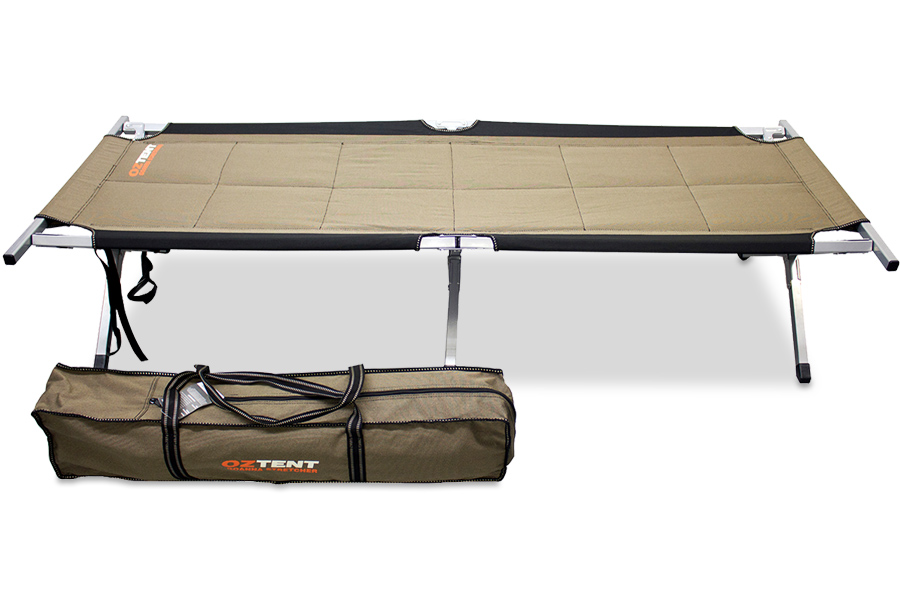 The Goanna is a super popular and solidly made option. Image: Oztent 
5. Oztrail Deluxe Bunk
We only have two bunks in our range, and Oztrail makes both of them. The Oztrail Deluxe Bunk offers better stability and is much easier to assemble and switch from bunk to single beds than the standard Oztrail Bunk also featured in this list.
The sleeping area is also much the same, it's a little lighter and comes with a bigger weight rating that is better suited to adults. The extra cost of the Deluxe Bunk will be long forgotten once you come to setting this bunk up at the end of a long day of travel.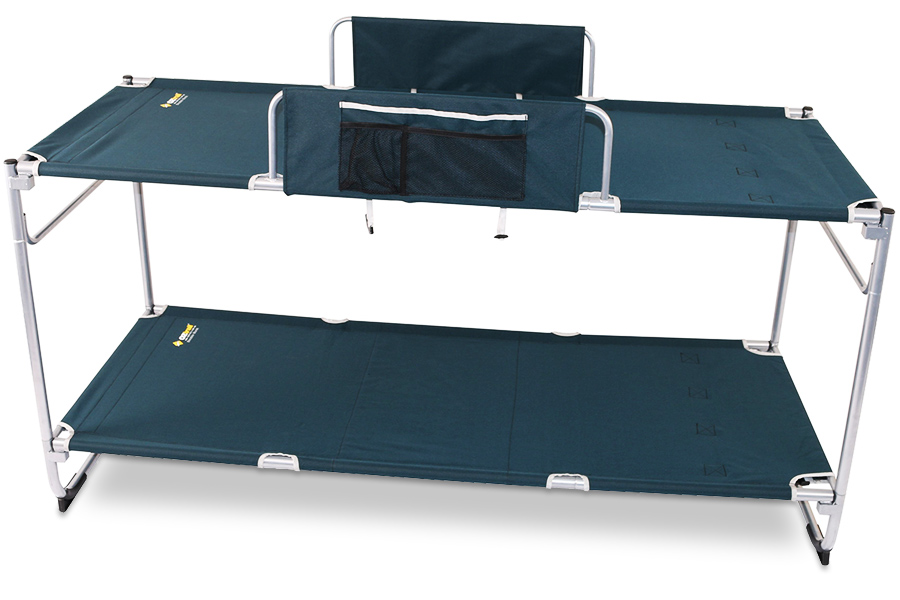 The Deluxe Bunk offers more versatility and a higher weight rating. Image: Oztrail
4. Zempire Speedy Beds – 2 sizes
Zempire is one of the newer brands to our range. However, they've quickly gained a positive reputation for many of their products, the Speedy Stretcher beds being one of them. Available in single and twin sizes, the Speedy Stretcher beds offer tons of stability and a good weight rating.
The attractive feature of these beds is the quick and easy way in which they fold away for transport and storage. They also come with a padded headrest and the twin includes elastic straps to keep your mattress in place.
The Queen size is designed so that the middle of the bed offers plenty of stability but this does mean that a bar runs down the centre. However, the Zempire Twin Bomber Camp mattress caters for this and is a great companion for this bed.
The Speedy stretchers are a great choice when time is of the essence. Image: Zempire 
3. Oztent Gecko Stretcher
Another reliable and ever-popular stretcher – the Gecko Stretcher is the medium sized option in the Oztent range. It has a 150 kg weight rating and offers good length and width for an average sized user.
The Gecko is a good all-rounder for family camping in medium to large tents and offers the same padded fabric featured on all Oztent stretchers. The powder-coated steel frame balances stability nicely with a very manageable packed size.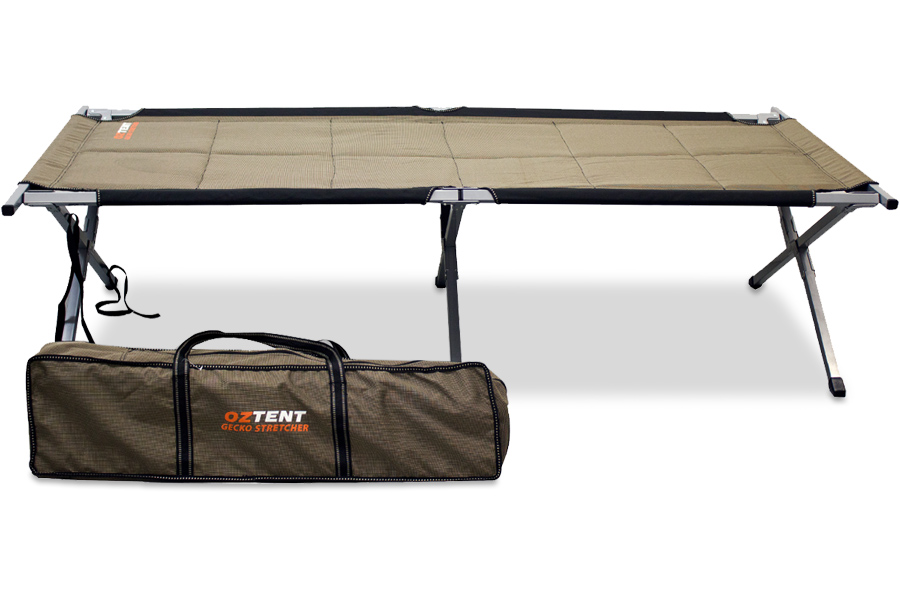 We consider the Gecko to be a go-to for family or group camping expeditions. Image: Oztent
2. Oztent King Goanna Stretcher
This is the biggest and most popular stretcher from Oztent. The King Goanna Stretcher boasts the same powder coated steel frame, padded fabric and 150kg weight rating as its smaller siblings, only it provides an extra 20 cm of length, suiting users up to 210cm in height.
The King Goanna Stretcher has remained unchanged in its core design for many years, and for good reason – it works! The stability of the frame and comfort offered by the fabric means that the King Goanna Stretcher has been providing campers and adventurers with restful sleep for decades.
If you need extra length, this is the one to go for in the Oztent range. Image: Oztent
1. Oztrail Easy Fold Stretcher – 3 sizes
Although they had a facelift in 2017, our best-selling Oztrail Easy Fold Stretchers, have remained otherwise unchanged for many years. Available in three sizes – single, jumbo and queen, these stretchers are popular on account of their stability, a big 150 kg weight rating across the range, and ease of set-up and pack away.
On top of these tried and tested features, they also come with an under-bed storage hammock and a side organiser pocket. The single is a good all-around size, the jumbo offers extra length and width, and the queen offers good stability throughout so it's great for couples.
There is a bar that runs down the centre of the queen bed, so just note that two single mats can fit neater than a double if you're looking to extend the comfort of your Easy Fold Stretcher.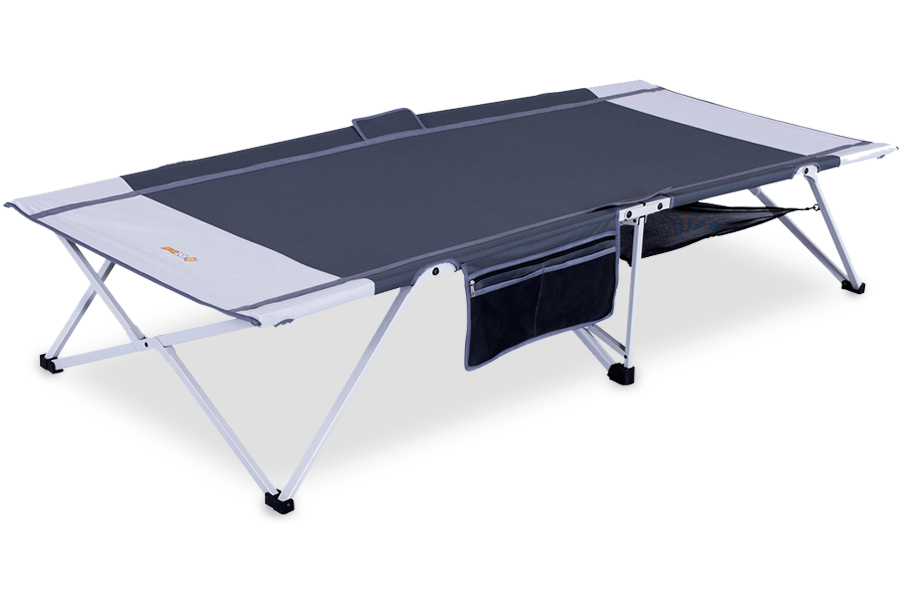 Easy to set up, stable and with 3 sizes available – the Easy Fold is a no-brainer. Image: Oztrail
Upcoming star – Darche XL 100 Stretcher
We've only had this one in our range for less than a year, but it's been popular since its inclusion. So we wouldn't be doing it any justice by not mentioning it in this list. The Darche XL 100 is a large format stretcher with space for large sleeping bags. It can also be used as a platform for getting your swag up off the ground.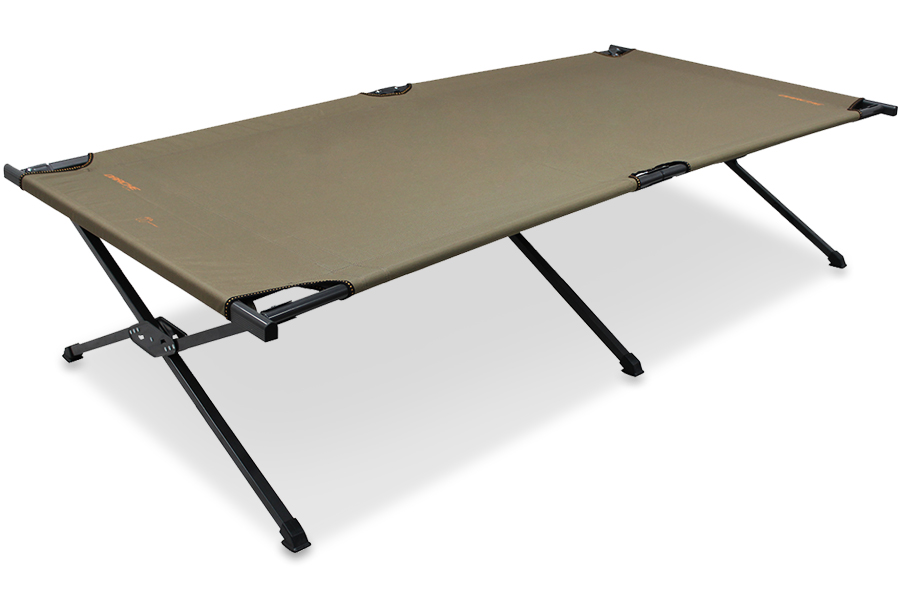 New to our range, the XL 100 has proved to be a contender for next year's list. Image: Darche
The benefit of the Darche XL 100 Stretcher is that the frame is made of alloy. This makes it a little lighter and it packs down a little smaller than its closest competitor, the Outdoor Connection Titan. The only downside is that it is a little wobblier. But it still has a 150 kg weight rating, and it comes in discreet colours that will suit those trying not to stand out in the campsite.
Well, there you have it! These were our top selling stretchers, as determined by you – our customers, over the last 12 months.
What's your preferred sleep solution when you're roughing (or maybe not so roughing) it?
About the writer...
Joined back in March, 2013