Going on a camping trip needs to be fun for the whole family. Happy and occupied kids makes for happy adults. Here are some tips and activities for keeping the kids entertained in the campsite.
Don't stress – the kids will get dirty!
Have some special camping clothes that the kids can get dirty, and let them wear them for more than one day. After all, it's good, clean dirt.
Bring some toys
Allow the kids to bring some small toys that are suitable for playing with around the camp. I have seen kids play in the dirt with cars, trucks and action figures for hours on end. Provide a tarp that can be laid out for playing card games, board games or with other toys requiring a cleaner spot.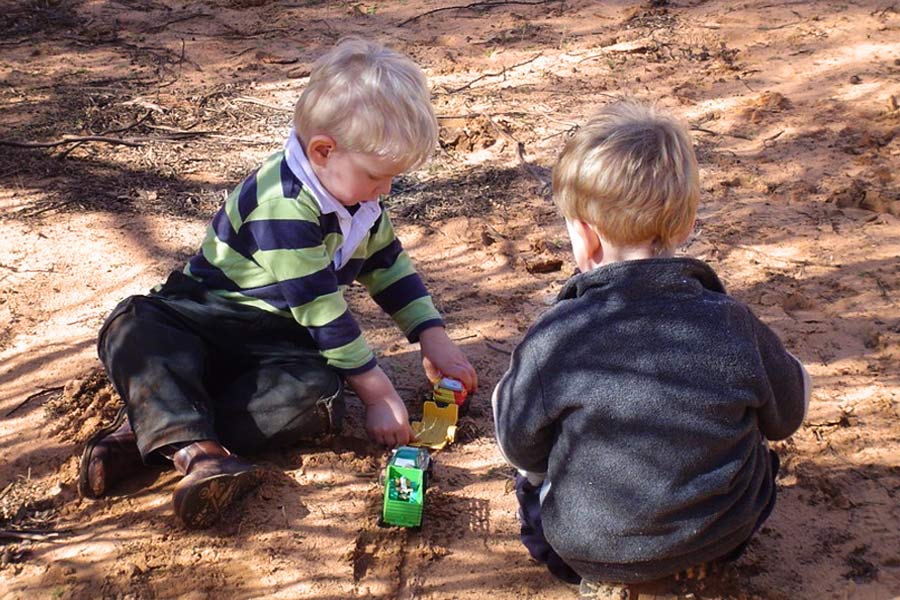 Bring along some toys so that the kids can play with them in a new environment. 
Go for walks
This is especially good for younger kids. Point out interesting things around them, teach them the safety of keeping the campsite in view, let them use a UHF radio to talk to someone back at camp and let them do a talk to the group about what they saw.
Watch out for animal tracks.
Help the kids to identify what animals are nearby:
How many legs?
How many toes?
Where do the tracks lead?
How far apart are the footsteps?
How big might the animal be?
Have a bird and animal reference book handy to help identify the animal.
Get them involved
If the kids are old enough, get them to plan and make at least one meal for the family. Let them find a recipe, buy the ingredients and prepare the meal. Perhaps even do a miniature "MasterChef" by taking some photos/video while they explain what they are doing.
Make sure they have defined responsibilities when setting up and breaking camp. This keeps them involved and gives you time for your tasks.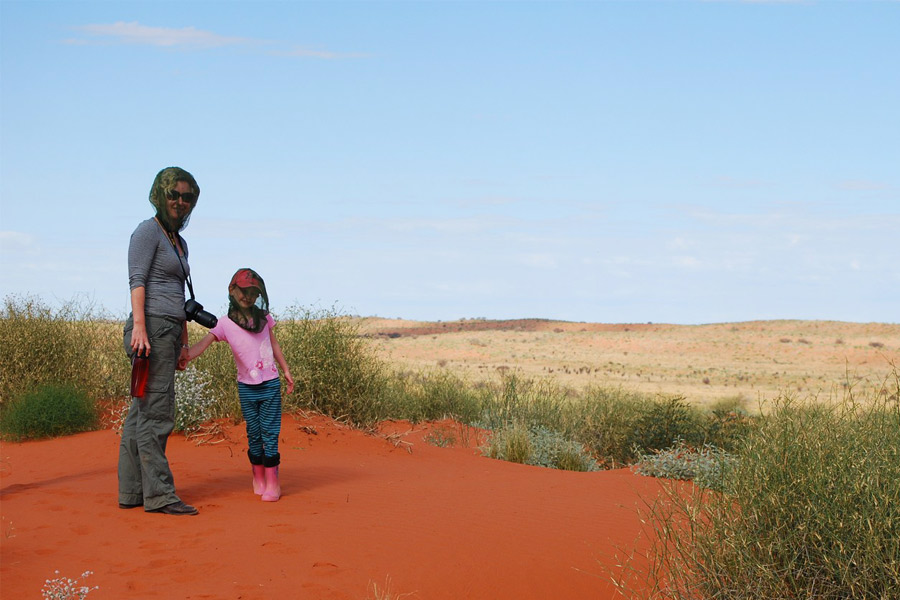 Go for a walk with your kids… they'll be fascinated by all the wonders Mother Nature has to offer.
Take photos
Even quite young kids can take photos with the relatively cheap and automatic digital cameras available. Even an old phone with a built-in camera could be used.
Encourage them to take photos of things of interest and later make a presentation on the computer. You will be amazed at the skills even very young kids have with programs such as PowerPoint.
Fly kites
Modern kites fold up into a very small space and are easy to carry. Ensure that they are used in a good clear space to avoid having to untangle and retrieve a kite stuck high up in a tree.
What are your tips for keeping kids occupied on a camping trip? 
About the writer...
After experiencing camping, and being a boy scout as a child, I developed a love of the outdoors and the outback. I've taken every opportunity to travel across the outback through South Australia, the Northern Territory, and down the Western Australian Coast. In more recent times, after becoming an empty nester, I have organised and led many outback trips for family members, friends and acquaintances, to explore some of the more remote places across the country.
Joined back in June, 2012