Type in 'Asheville in the fall' and you'll get a sense of its magic. In the heart of fall, Asheville's Great Smoky Mountains turns into a sea of red, orange and yellow. Few places do fall foliage quite like Asheville.
The Appalachian National Trail cuts through North Carolina, making Asheville the perfect start-stop point for day hikes. But Asheville is much more than a small, outdoorsy city in the mountains, it's 'America's Beer City' with over 63 breweries – the most per capita in the country.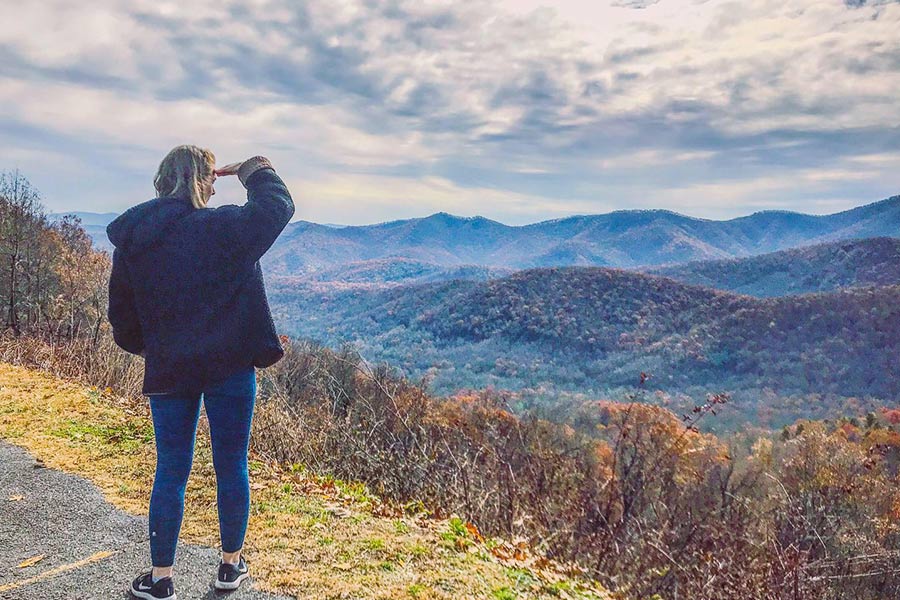 Asheville is a breath of fresh air in the south. 
The Carolinas don't get much attention, compared to other states. Asheville's liberal, artistic mountain spirit is a breath of fresh air in the conservative South. Buskers turn sidewalks into stages, Uber drivers become tour guides and the streets are filled with foodies, beer lovers, and adventurers, alike.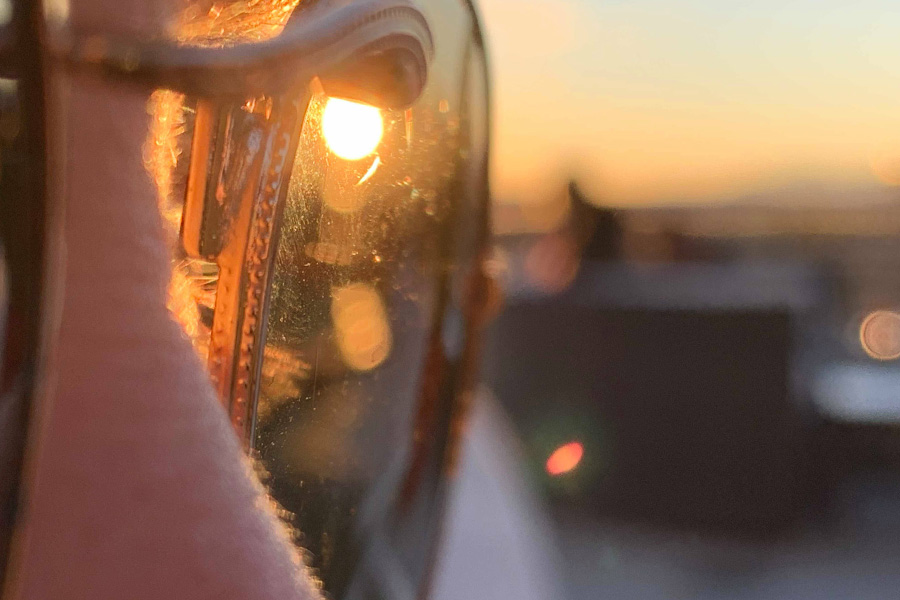 Asheville is perfect for foodies and adventurers. 
Flights, car hire & accommodation
It's the kind of city that's perfect to tag onto another trip or go-to for the weekend. We visited for four days, which was the perfect, long-weekend from New York City. The flights were USD $100 through the local airline, Allegiant. The airport is only 15 minutes from Downtown Asheville – a quick USD $15-20 Uber ride.
The general consensus about the hotels is that they're too expensive. Some Uber drivers even said they can charge up to USD $400 per night, so we're happy we went for the Airbnb. We stayed about 10 minutes from the downtown area in a gorgeous space that cost USD $370 for four nights.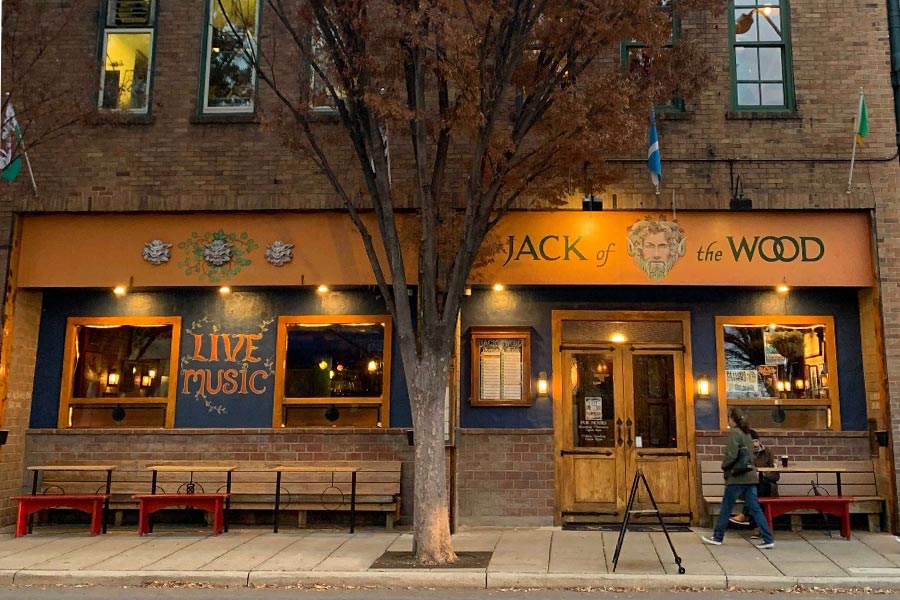 Wander around the city and sample the local brews. 
Asheville, while hilly, is a walkable city. With its brewery strips and artists on the street, you'll want to experience it by foot. Instead of hiring a car at the airport, we chose to take Ubers and use Budget for a day rental to explore the Blue Ridge Parkway. The day rate was USD $80, plus a deposit. This gave us the freedom to wander in the city, then explore the incredible mountains by car.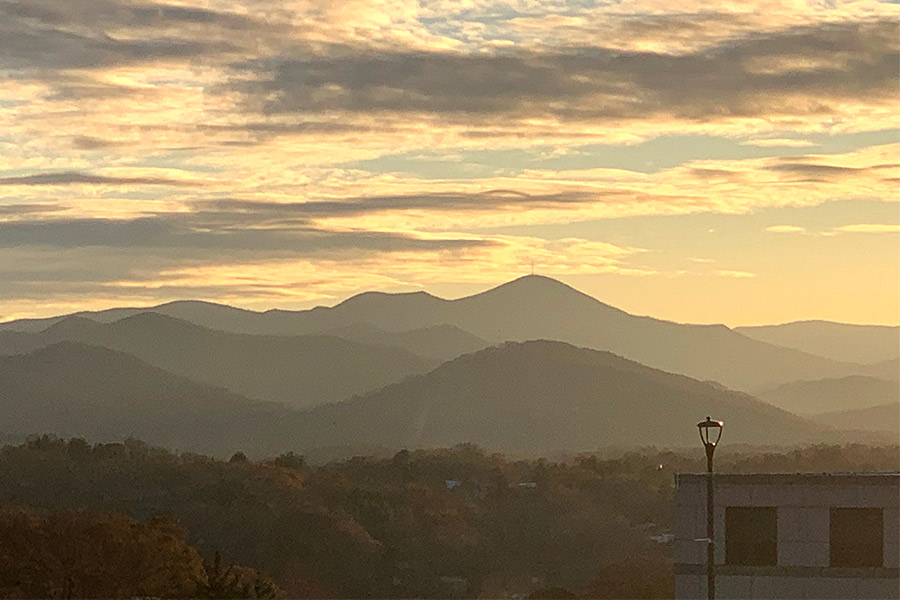 You can experience this city on foot.
3-4 days in Asheville & the Great Smoky Mountains
"You're going to have a fun time here," said just about every Uber driver we spoke with. When you have 63 breweries within a small city radius, you know it's going to be a good time.
But, Asheville is just as much a foodie city as it is a beer destination. We had one average meal in four days. Our days were filled with shrimp po' boys sandwiches, biscuits and gravy, barbequed meat, fried chicken and anything Southern we could get our hands on.
I have one piece of advice: try everything! Asheville had the best food out of any city I've been to… and I've travelled to 50+ countries.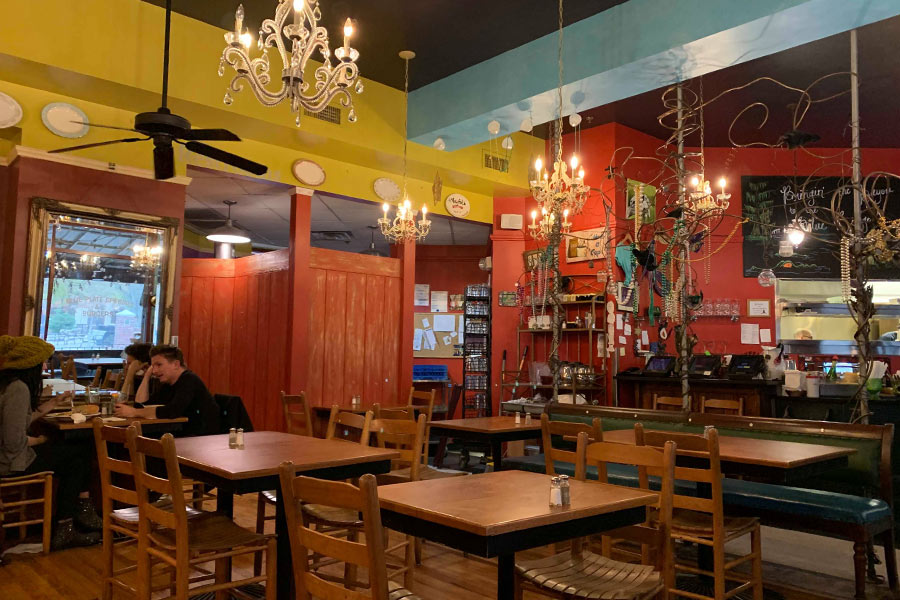 You've got to try a po'boy at Mayfel's. 
Day one – exploring downtown
Day 1: Take one day exploring Downtown Asheville. Start at noon and head to Prichard Park to take in the heart of the city. Go grab a po' Boy at Mayfel's then wander the quaint street behind it – Wall Street. There's plenty of boutiques, coffee shops and yes, a brewery or two, to stop at.
The southern food in Asheville is some of the best I've tried. 
Coxe Avenue (otherwise known as the 'South Slope' brewery district is bursting with Asheville's best drinking spots. Don't miss Funkatorium, Hi-Wire, and Twin Leaf. But, forget about the names and just wander into anyone that calls you.
Buxton Hall Barbeque is a famous locale and a must-try for fried chicken. This place doesn't take reservations, so try to get there early. We had a 40-minute wait, but thankfully, there are plenty of breweries close by.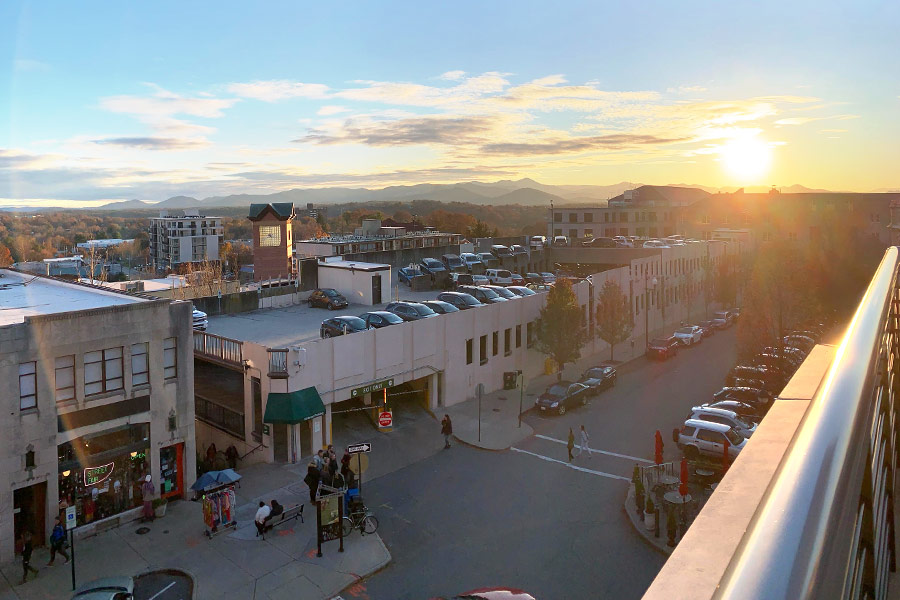 Take a stroll downtown to see what the city has to offer.
Day two – Biltmore Estate
Day 2: The 19-century Biltmore Estate is one of the main attractions in Asheville. It's the largest privately-owned house in America, owned by the Vanderbilts. It's quite the spectacle and was the filming location for the movie Richie Rich. You can buy tickets online (in advance) for around USD $80. While not cheap, it is part of the Asheville experience. You can spend the morning there, then explore the nearby charming Biltmore Village.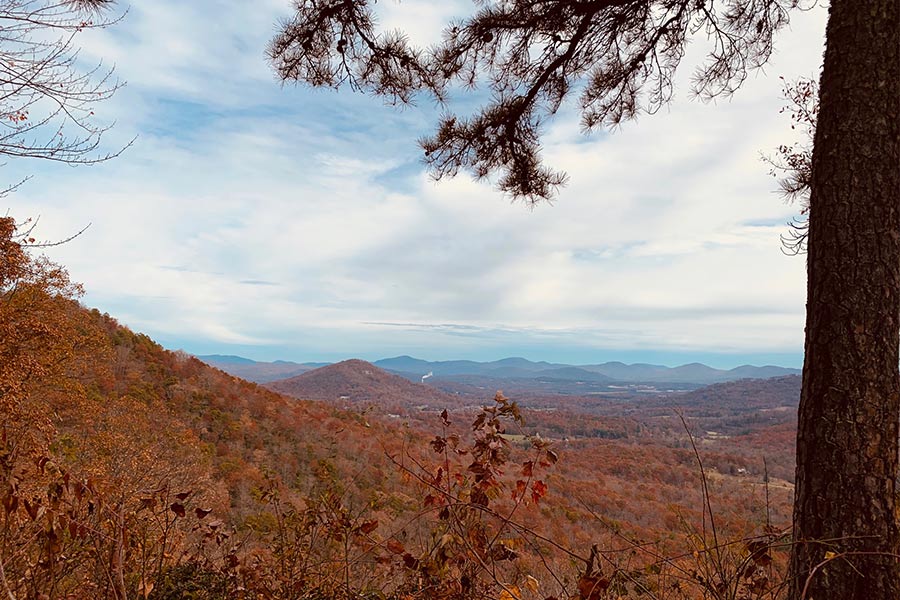 Take in the views of the Great Smoky Mountains. 
Day three- following the Blue Ridge Parkway into the Great Smoky Mountains
Day 3: It's time to get out of the city and start working off all those beers and Southern eats. Follow the Blue Ridge Parkway out of Asheville into the Great Smoky Mountains. Follow the road as it cuts through the national park and stop at the lookouts and hiking trails for endless sweeping views.
You can easily spend the day hiking and driving around this region. Make sure you bring plenty of water and snacks for the day, as we didn't pass by any stores or pop-up stands in the park.
Here's a great resource to help you pick the best hiking trails for your adventure.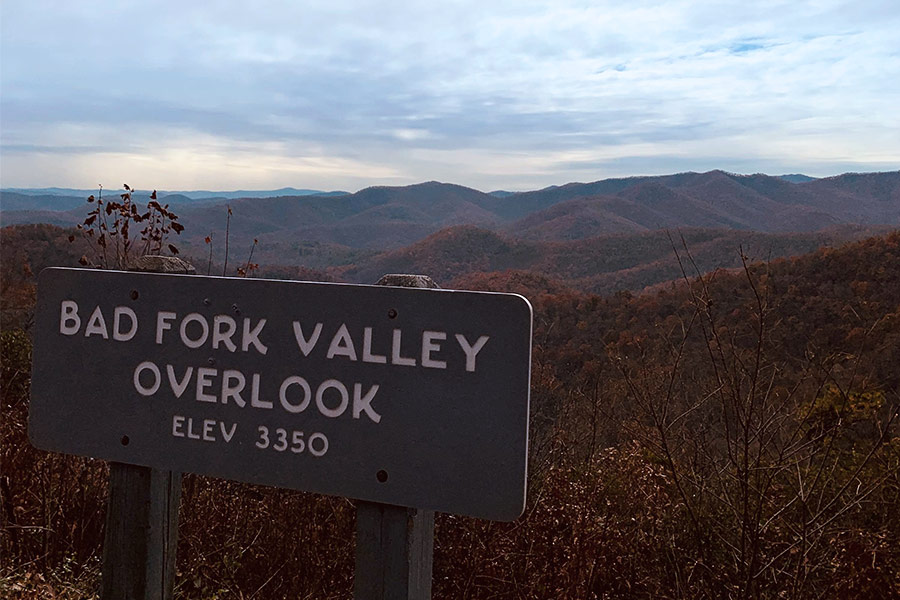 Views from the Blue Ridge Parkway. 
Day four – experiencing the River Arts District
Day 4: You need one last day to soak up the amazing weirdness of Asheville. While still in its infancy, the River Arts District is a cool spot to check out. For some incredible barbeque food, head to 12 Bones Smokehouse, then for some more beer, visit New Belgium Brewing Company. While you're in the area, you cannot miss Hole Doughnuts. They make them fresh right in front of you.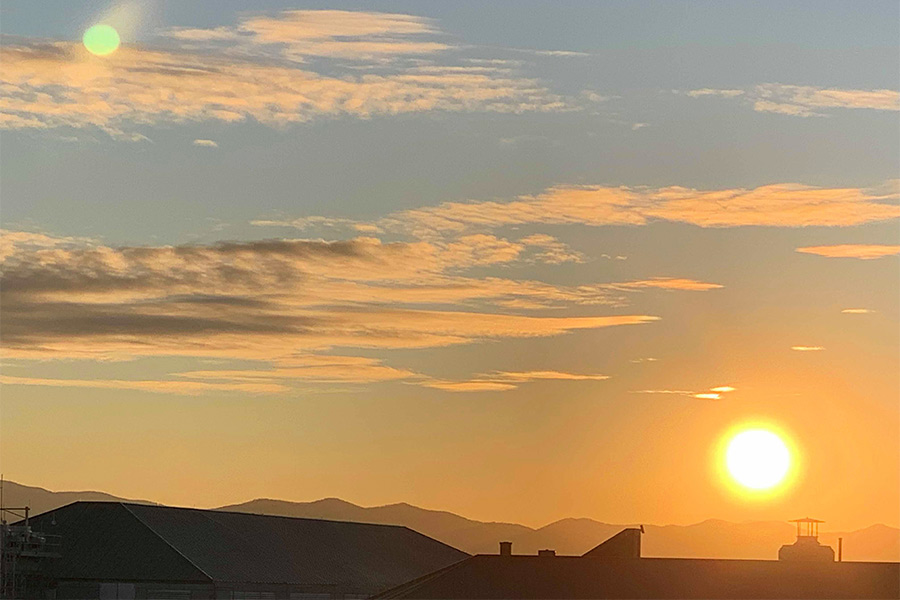 You won't regret taking in the sights and flavours of Asheville, NC.
After a lot of exploring, by foot and by tastebuds, you'll be ready to go back to your normal routine. But, the heart (and palette) warming spirit of Asheville will stay with you, long after you've left.
What's your favourite hidden gem city you've ever visited?
About the writer...
A journalist by trade but storyteller by heart, Amanda writes content for a variety of communication agencies and individual brands, and editorials and feature stories for magazines, blogs, and news platforms. She's worked with over 100 brands across Australia and globally. Always curious, Amanda draws her creative inspiration from people – whether it's sitting in a cafe people watching, having a conversation with a stranger or reliving memories from the 50 countries she's travelled to. Follow her on @amandasmith_writer and visit her online at www.amandasmithwriter.com.au.
Joined back in May, 2018