With the world turned upside-down and most interstate travel coming to a grinding halt, we're thrilled to bits that camping and 4WD trips are back on the table and it's got us busier than ever.
Life was getting more and more hectic with less and less time devoted to maintaining gear and sorting out those little items which make life away from home a whole lot smoother.
With this in mind, we've put together a top 10 list of the best things to get you ready for your next adventure.
Setting up at home to get ready for our next trip.
1. Organise your camp kitchen
Most of us have been there and know how frustrating it is when you can't find the can opener or you run out of rubbish bags and you're in the middle of nowhere!
Regardless of how you camp, be it trailer or vehicle based, an efficient kitchen set-up is worth the effort of pulling everything out and putting it back where it should be. Create a list of what's missing, what you're running low on, (eg dishwashing detergent/fire lighters) and of anything that's broken so you can replace it.
Check that all the bowls, plates, knives and forks you need are in your kit and aren't missing or broken. We usually travel as a family of 4, so we always make sure to carry 4 of everything.
Do a stocktake of everything in your camp kitchen to sort out what's missing.
2. Sort out your electrical system
Usually over time, one accessory gets added over the top of the previous, creating a bird's nest of wires and fuses. Spending time to tidy up, label and check over wiring will make roadside problems less likely and easier to diagnose. It can also reduce the risk of an electrical fire which can quickly become an unstoppable nightmare.
Running accessory power to a fuse block instead of multiple fuses connected directly to the battery not only looks professional and makes replacing a blown fuse easier, but makes battery terminals less likely to come loose causing charging issues or electrical gremlins.
A fuse block and labels to help diagnose faults.
3. Create a list of your spare parts
In that critical moment, will you remember where the fuel tank repair putty is? Create a list of all the spare parts you carry and where they are stashed in your vehicle so that you can easily dig them out in times of need. With the addition of boxes, drawers and hooks, we've created multiple storage areas within our vehicle, making it efficient and easy to access our spares if there's a failure.
Fan belts, radiator hoses and a spare fuel cap, fuses, tyre plugs, electrical wire and tank repair putties get stashed behind back seats, in side pockets or in the rear drawers, even in the space for the jack.
Having an up-to-date list will save you from pulling half the car apart looking for 1 item to get you back on the road.
Knowing where your spares are in a pinch can be critical.
4. Modifications to your setup
We're not talking about doing a Ute conversion or anything crazy, but little ideas that can make your camp setup tailored for your needs. Mounting that LED light on the back of the 4WD for your kitchen, or installing tie down points for the fridge in your ute or wagon.
For us it was making a fast overnight awning on our camper from off-the-shelf side walls for 4WD awnings. We also modified the stone guard, under bed storage and a custom mount for the recovery boards.
Modifying your gear is rewarding and can make life on the road so much easier.
5. Fill everything up
Charge up batteries for the camper, torches and camera gear so they are stored at maximum capacity. Fill up your gas bottles if they're low and make sure the tyre pressures are topped up especially if the trailer is going to be sitting for a while. Check the fire extinguisher is full and has not expired.
Don't forget about the water tanks too. We keep ours full to the brim to stop mould growing on the top of the tanks, then dump and replace the water when we head off so we have pleasant tasting water when away from home.
Over inflate the trailer tyres if being stored long term to stop flat spots.
6. Plan out the next trip
For the immediate future, travel plans to the Kimberley, Cape York or Fraser Island need to be put on the back-burner. Instead, now is the time to plan and explore all those destinations closer to home.
I bet there are loads of secret spots that a little research can uncover. Perhaps there's a State Forest or National Park just an hour or so from home? Or maybe you've heard good things about a privately owned 4WD park but still haven't yet checked out?
Spending time researching new areas isn't hard.
7. Change fluids that normally get missed on a minor service
Filters and engine oil replacement are changed at services like clockwork, but what about the power steering fluid, brake and clutch fluid, and the diff oils needed to lubricate all those other engine parts? These are usually time consuming to do, but not a technical job.
A quick search on YouTube if you've never done it and you'll be amazed at the money you can save if your vehicle no longer requires log book servicing.
Check the water levels in serviceable lead acid batteries and pump new grease into the trailer hitch and suspension.
Adding new grease to parts that get neglected.
8. Give everything a good clean
Keeping a coat of polish on your paintwork stops staining and makes the next wash so much easier. If it's been a while since you gave your 4WD or trailer a good wash it may need a cut and polish, but if you then wash it regularly with a quality "wash and wax" it's amazing how easy things like sap stains and dead bugs clean right off.
Give the inside surfaces a good wipe too, Armour-All the rubber dust seals, and don't forget about cleaning the solar panels, camp fridge, chairs and even washing the sleeping bags.
When water beads up it shows there is a protective coating.
9. Check your first aid kit
We seem to always raid the camp first aid kit when at home but then neglect to replenish it, are you guilty of this too? It's a good idea to pull everything out, restock what's running low or missing, and also check expiry dates. How old is your guide book, does it detail the newest and safest techniques? A thorough check now could avoid a disaster in the future.
Make sure nothing is missing or expired, it could save a life.
10. Upgrade your old equipment
With click and collect, online ordering or dropping in if a quality camp store like Snowys is local, now is the perfect time to upgrade your old worn out gear. With travel restrictions and closure on pubs and restaurants the last couple of months, we've used that extra money to replace things like bent tent pegs, the shower that kept playing up and a new GPS to help plan our big lap of Australia.
Consider what new gear will add to your set up. 
Get excited for your next adventure
Don't get disheartened if we don't have the same freedom to go and do what was the norm before all the new rules and changes. It may be a while before international travel is safe, but Australia has some of the world's best camping destinations.
Your next adventure is on the horizon. 
So get inspired, pull the tools out of the shed and get those problems that you've turned a blind eye to sorted. Have your gear up to scratch so the next adventure will be seamless and far more relaxing even with a moment's notice.
We are ready for the next adventure, what have you been doing?
About the writer...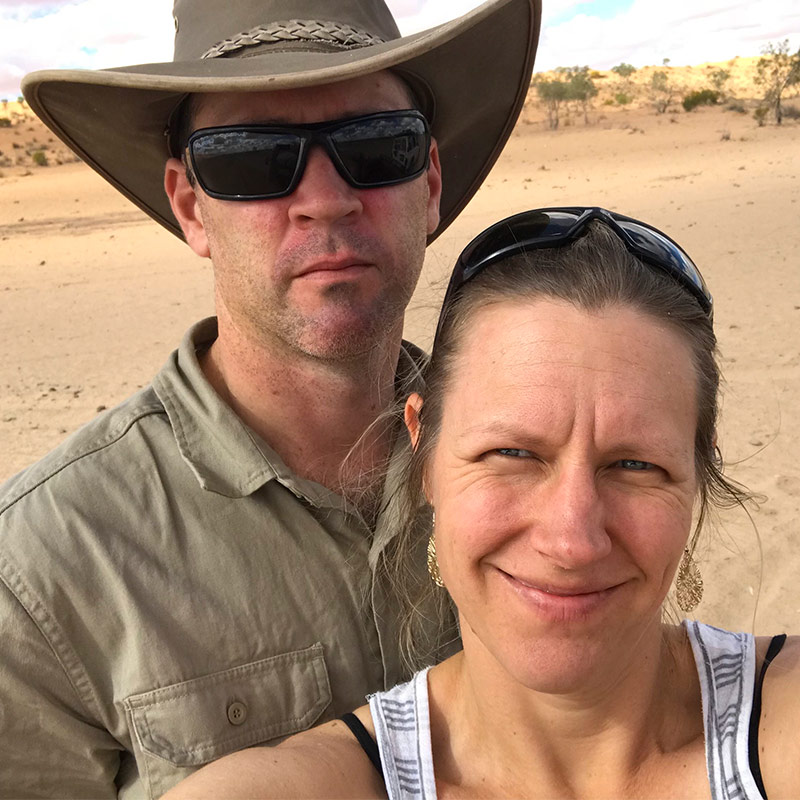 From short weekends away to epic trips seeing the most iconic places in Australia. Travelling with our kids and our kelpie whenever we can get away from work. We love going overland and have travelled from the northernmost tip of Cape York to as far south as you can drive on Tasmania. From Fraser Island west to Uluru and everything in between. Currently building up for a big lap of Australia with a new camper and a 25 year old Nissan Patrol. Follow our adventure @goingoverland on Instagram, YouTube or Facebook.
Joined back in October, 2019